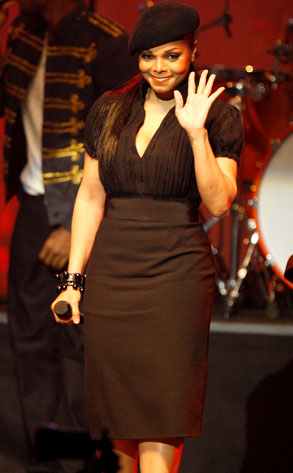 Vince Bucci/Getty Images
Love doesn't have to do without Janet Jackson anymore.
The 42-year-old pop diva performed as if she had never heard of a thing called vertigo as she finally resumed her Rock Witchu Tour Wednesday night in Washington, D.C.
Jackson had been sidelined since Sept. 29 with migraine-associated vertigo and, on doctors' orders, was forced to postpone nine shows, including one originally scheduled for tomorrow at Madison Square Garden.
But the sell-out crowd gathered at the Verizon Center tonight got lucky. Jackson made her entrance amid fireworks and theatrical smoke and then, knowing what works, kicked off the show with a medley of "The Pleasure Principle," "Control" and "What Have You Done for Me Lately," all off of 1986's Control.
"It feels so good to be back after being down just a little bit," the artist said during a brief break in the evening's lineup, which also included her latest single, "Feedback," "Miss You Much," "Nasty" and "Rhythm Nation."