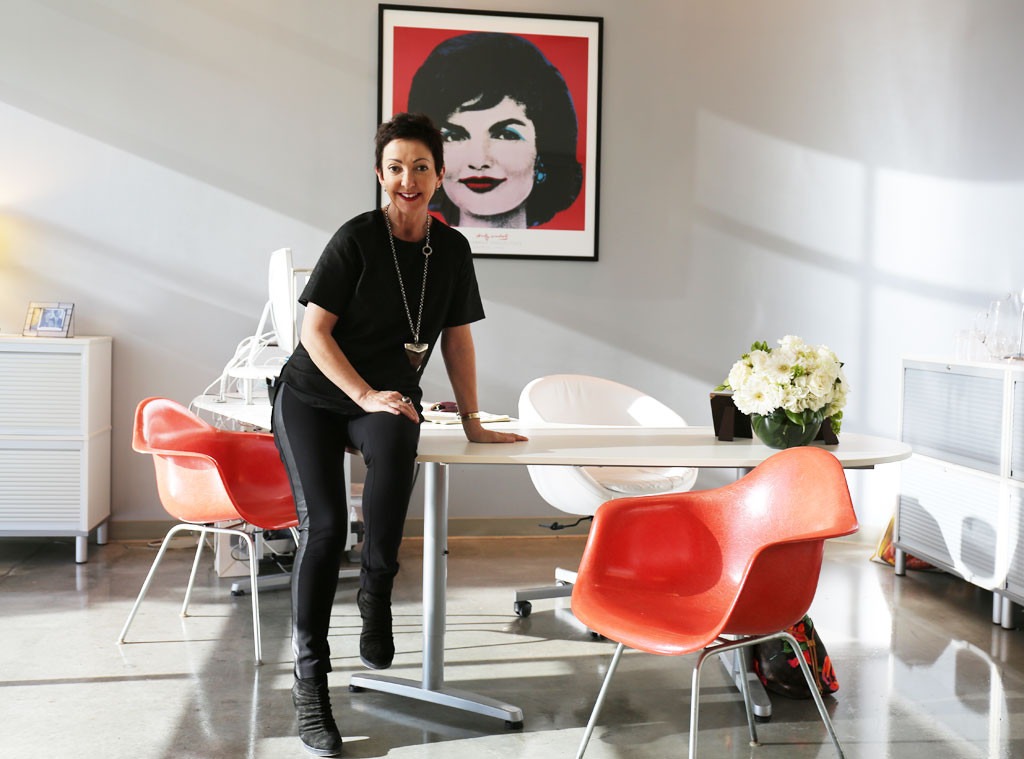 Jennifer Cooper, E!
Clear, radiant skin is much easier filtered than maintained (sorry, Instagram). The headache of sorting through gunky face creams and irritating serums to find the one product that works is exhausting, not to mention taxing on your skin. But with Dermalogica, consider the hassle eliminated.
Founded in 1986, Dermalogica is a top dog in the skincare industry, and has a potent mission that's just as exceptional as its life-changing beauty goods. And with founder and chief visionary Jane Wurwand calling the shots, the beauty brand has nowhere to go but up.
We caught up with the skincare guru, and got the details on her whirlwind career and typical days in the office. So go on—read what Wurwand has to offer!
How did you get started in your career?
At a very young age, my practical English mum told me that it was important that I learn how to "do" something. My mother was a skilled nurse and had instilled in me the importance of vocational skillset training. So I always knew I would choose any industry where I would need to use my hands.
My very first job was coincidentally my first introduction to the professional salon industry and how I began my career. At the age of 13, I was hired by a local salon in my neighborhood in the U.K. as a Saturday girl. This job consisted of me sweeping up hair cuttings from the floor where the ladies were having their bi-weekly wash and set. Then I would pick through vast boxes of hair cuttings and retrieve the hundreds of hair-pins, which were then disinfected and re-used. When I was promoted to shampoo girl, I was over the moon!
Ever since my first job as a Saturday girl, I knew professional skincare was the industry I was meant to be in and I've never looked back. This industry, which is comprised of 98 percent women, opens more economic opportunities for women than any other. This fact alone makes me incredibly proud to be a part of this 'Tribe'.
Who are some of your career heroes?
There are many.  I will begin with my mother, who empowered me and my sisters by her example. She was brave, resilient, resourceful and kind. She was widowed as a young mother of four, and raised us on her own.
I admire Richard Branson and Vidal Sassoon because both overcame adversity in order to realize their dreams and achieve success.
I am inspired by Maya Angelou, who broke every psychic barrier I can think of. She worked as a conductor on the San Francisco trolley cars. She worked as a calypso singer in nightclubs, with a fake Caribbean accent. And when she began writing the story of her truth, she changed the world forever. Just saying the words, "I know why the caged bird sings" gives me chills and helps me remember what our larger purpose is in this world, in terms of social justice, human rights, and women's rights.
Gloria Steinem is another one of my great heroes. A few years ago, I had the great fortune of meeting Ms. Steinem and when I asked her what I could do to help advance gender equality, her simple reply was for me to "do more." I took her words very seriously and I, along with everyone at Dermalogica, have worked hard to help women achieve financial independence through our global economic empowerment initiative, FITE (Financial Independence Through Entrepreneurship).
What's a typical work day like for you?
For me, there is no "typical day" as every day is different and it's a constant juggling act. Dermalogica has a seasoned core team in place that manages the day-to-day business. This allows Raymond [Wurwand] and me to take on a more strategic role within the company and continue to be its visionary leaders. I never feel as if I am 'working.' My work is part of who I am, and of my life, so whatever I'm doing, I simply feel I'm 'living.'
Our seasoned team is also responsible for our expansion to global markets around the world. Dermalogica is such a unique brand that prides itself in going against the current. Over the years, we've created a cult-like following, and those who are part of the Dermalogica culture and experience are part of our tribe. As such, Raymond and I make it a point to meet with each distributor to ensure the partnership is the right fit for our brand and we are frequently meeting with them at our corporate offices.
I also care deeply about Dermalogica's social impact initiative, FITE, which helps women and girls to achieve financial independence as well as receive educational opportunities and resources so they can reach their greatest potential. Through FITE, we've helped more than 50,000 women around the world to start or grow a business. Later this year, we are launching a new program, called FITE Future Entrepreneurs, which will help support women who are out of work and out of school to receive the educational resources needed in order to start their own business within the professional salon industry and become financially independent.
Describe your office décor.
I work in modern and live in old. Although I love living in a 1920's Spanish home in L.A. with character and lots of charm, I prefer my working spaces to be modern and minimal in design. I like sharp lines, hard surfaces, silver metal, lots of gray and white, clear lines of sight and clear traffic-paths, and the shock of really intense, saturated, opaque graphic colors against white, as in a Warhol silkscreen. A lot of modern design from the '60s, as well as contemporary Japanese and Scandinavian design, appeals to me for workspace.
List five things on your desk right now:
I don't like a lot of clutter on my desk, so there is not much outside of an iMac, wireless keyboard, iPhone, my calendar and a black pen— and two black and white photographs of my daughters.
What do you typically wear to work?
Often, I wear black, white or gray separates. It makes packing easier. I love good leather, and my basic pieces come to life with a few statement accessories: Alexander McQueen scarf, antique Edwardian jewelry and a slouchy, soft leather bag that I can throw all my stuff into.
Where are you favorite places to shop?
Dover Street Market in New York and London, James Perse in California for T-shirts, Vince online for endless leather pants and Prada, anywhere on earth.
What is the best piece of career advice you've ever received?
When everyone tells you to quit, keep going. They quit because they are scared. You go on because you can and there is no looking back. There's no plan B.
Finish this sentence…
Today for lunch I had… vegetable curry and brown rice.
The first website I log onto every day is…… dermalogica.com, dermalinstitute.com and joinFITE.org. Then I check the weather in N.Y.C. where my daughter lives.
The beauty product you can always find in my purse is… Dermalogica Power Rich (but it's about skin health, not beauty) and NARS red lipstick (that's about color not skin health!)
My usual Starbucks order is… grande misto with one percent milk— it's on their secret menu and is basically a café au lait.
My must-have work gadget is… my iPhone and mini iPad.
If I need a quick break during work… I go walk around visiting people at their desks and see what they are working on, and if I can help or brainstorm. Or just chat.
If I wasn't doing this job, I would either be… an interior designer and decorator or an antiques appraiser with a specialty in Georgian jewelry. Perhaps I still will!
The best part of my job… is seeing first-hand how my industry empowers professional skin care therapists, 98 percent of whom are women; they are truly the backbone of Dermalogica's 30-year success. Our industry and our brand create remarkable, extraordinary opportunities for financial independence and achievement. Giving women the tools and resources needed to actualize their own potential makes what I do so insanely gratifying.​