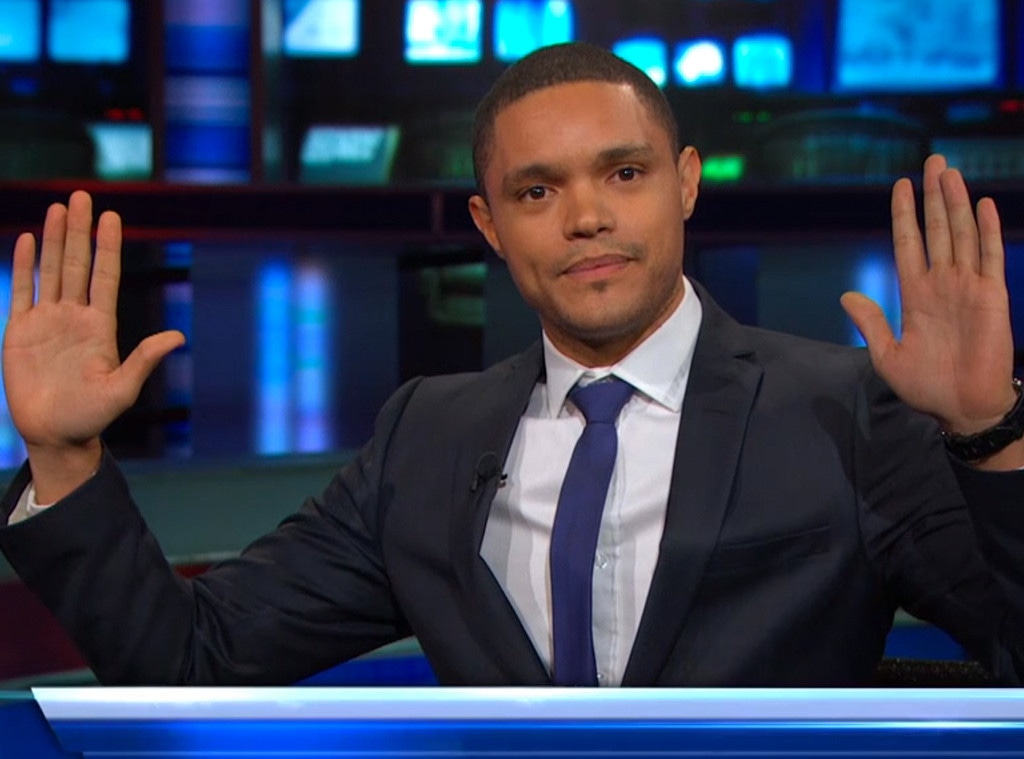 Comedy Central
Monday morning went like this for most people:
Sees Trevor Noah is announced as replacement for Jon Stewart on The Daily Show
Asks self: "Who?!"
Googles "Trevor Noah"
Sees photo of Trevor Noah
Licks lips and says "I could spread him on a cracker."

Jon Stewart is obviously sexy, but Trevor Noah is sexy. And there is an important different between the two, you know. Yes, Trevor is hilarious, smart and will do a wonderful job manning the Daily Show desk, but there are a lot of people on Twitter who are excited about this announcement simply because he is delicious and they want to gobble him up. (We're one of those people).
Usually we have a firm policy never to lust after guys named "Trevor," but we will break all kinds of rules for this man. So before anyone sees one minute of Trevor as host of The Daily Show, these people are so on board with him. Because they want to be on him:
Trevor Noah can GET IT.

? Raylan Givens (@dupweeeee) March 30, 2015
i might start watching the daily show now because trevor noah is sexy

? The Almighty Eva (@Eva_Noah_Momoa) March 30, 2015
I have a new crush on Trevor Noah. He's funny and fine.

? Trappin' Trappist (@Neeq_) March 30, 2015
Trevor Noah. Funny. Good looking. Sexy accent. Perfect.

? Amin Dallal (@DrewLawDMV) March 30, 2015
I'm just like everyone else. Excited about Trevor Noah bc he's cute with a hot accent. #shallowtweets

? Nicole Perri (@Nixie) March 30, 2015
Trevor Noah speaks 6 languages and is sexy as fuck. I'm down with this. #DailyShow

? Christine Estima (@christineestima) March 30, 2015
Trevor Noah is handsome and hot and smart and funny *starts watching daily show* hehehe

? BRING.BACK.OUR.GIRLS (@ChiMo___) March 30, 2015
*looks around* *lowers voice* is it bad if my first reaction to hearing the news was shouting "YO HELL YEAH TREVOR NOAH IS FINE AF" ?

? shelby fero (@shelbyfero) March 30, 2015
Can @Trevornoah be my baby daddy please and thank you

? keyshizzle (@keyshla__) March 30, 2015
Um... I did too. RT @TwitchyTeam: Media orgasms everywhere over 'hot' new Daily Show host Trevor Noah http://t.co/fPNozyR7il

? BiasedGirl (@BiasedGirl) March 30, 2015
Trevor Noah is hot, so I welcome my South African overlord. #shallowtweets

? geekgirl (@ggadventures) March 30, 2015
@TheDailyShow @Trevornoah Glad to see you're continuing the tradition of sexy hosts.

? Brian Thedell (@BrianThedell) March 30, 2015
Was pretty distraught over Jon Stewarts departure from the daily show. Then I saw how fine @Trevornoah was. Works for me. ????

? Hot Pot of Rice (@_theyheartBK_) March 30, 2015
I have a crush on Trevor Noah bye

? Rebecca (@donothump) March 30, 2015
Sad Stewart is leaving, but .@Trevornoah is kinda smokin hot

? Laura Gamble (@laurgamble) March 30, 2015
Loveeee Trevor Noah! Does that mean he doesn't live in Pasadena anymore and my days of stalking are done?

? Onana (@withloveDWINN) March 30, 2015
3 times trevor noah was hot af

? Jessica Roy (@JessicaKRoy) March 30, 2015
@thecherness I'm kinda into @Trevornoah with his sexy ass. Hey boo. @TheDailyShow

? BernadetteGiacomazzo (@berngiacomazzo) March 30, 2015
Trevor. Noah. Is. Soooo. Fine.

? Antoinette (@TheFancyFriend) March 30, 2015
I'm so excited for Trevor Noah to host the Daily Show, he is fine as hell ????

? Michigan Homo (@michigan_homo) March 30, 2015
What else do we need to know about Trevor Noah? He's sexy and from South Africa. Approved

? Claire Oso (@slaybaybay) March 30, 2015
For now I know that he is hot. And thats enough. "@HuffingtonPost Here's what you need to know about Trevor Noah, the new "Daily Show""

? Marilia (@LeiaMarilia) March 30, 2015
Trevor Noah is lovely.

? ercdesigns (@ercdesigns) March 30, 2015
TLDR Trevor Noah is hot

? EJ Dickson (@ejdickson) March 30, 2015
A half hour of Trevor Noah's sexy accent doing the Daily Show? DVR IT, BABY! I will miss Jon Stewart, but I'm very excited about Noah.

? stirrupqueen (@stirrupqueen) March 30, 2015
TREVOR NOAH IS THE NEW DAILY SHOW HOST!!! god bless he?s so hot and beautiful

? mi ? (@misketeers) March 30, 2015
So many more straight girls and gay guys are going to start watching TDS because of Trevor Noah. He's so hot!!! #TrevorNoah #TheDailyShow

? Nicky W. (@nickyw007) March 30, 2015
Trevor Noah is hot and funny. #yesplease #DailyShow

? Carly Antony (@carlyssaantony) March 30, 2015
This Trevor Noah is sexy af. I APPROVE

? Squirrel Girl (@_mothernerdbird) March 30, 2015
@Trevornoah hot damn! I look forward to your work.

? Cher Forsberg (@CherUF) March 30, 2015
W/ his fine ass ?????? RT @coslive: It?s official: Trevor Noah will succeed Jon Stewart as host of #TheDailyShow http://t.co/gaXwnMU1ku

? Thumbelina DeBarge (@VicTORIousGable) March 30, 2015
Trevor Noah is fine as hell tho

? Jameson Fitzpatrick (@twinkpiece) March 30, 2015
Trevor Noah can host my show daily ;) *swirls martini glass* *fans self* *ages 40 years* *spontaneously combusts in a lawn chair*

? Crissy Milazzo (@frizzyfilazzo) March 30, 2015
Congrats, Trevor Noah! Is it cool if we sometimes call you Noah Trevor? No? Well, anyway, we think you'll do an amazing job and also: