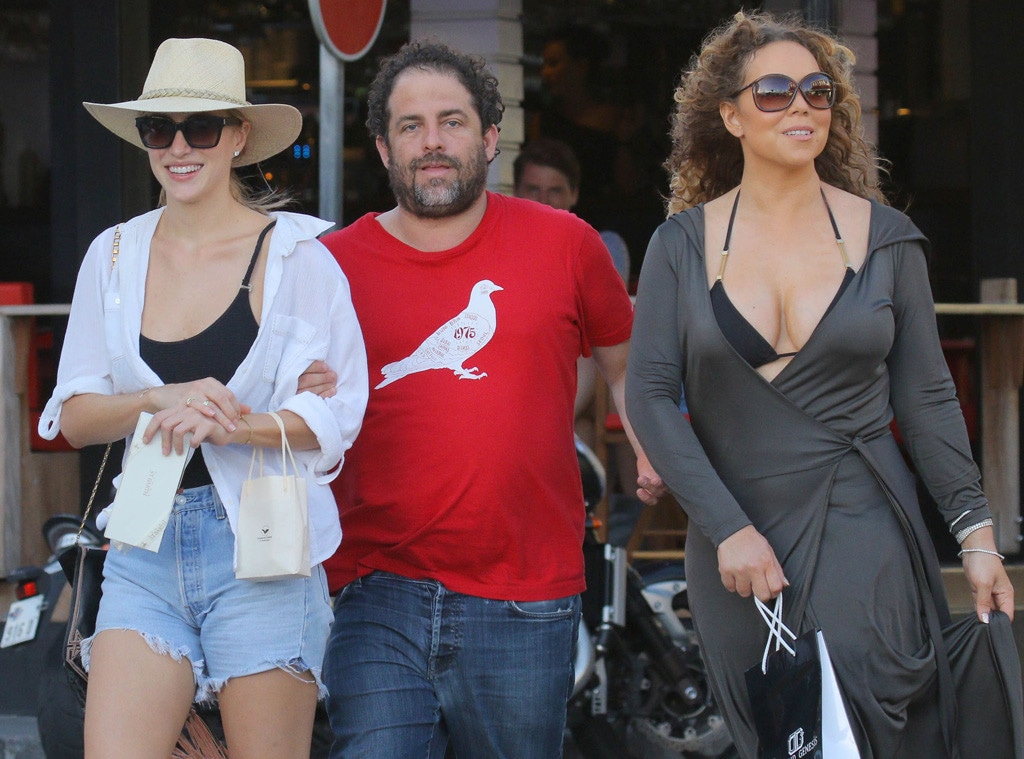 TRB/FAMEFLYNET PICTURES
Has Mariah Carey moved on with another man?
With Nick Cannon dating model Jessica White on the D.L., his soon-to-be ex-wife spent her birthday weekend in the arms of another man: X-Men: The Last Stand director Brett Ratner! In fact, Carey and Ratner were photographed walking arm-in-arm (with another female friend) while shopping in St. Barts.
Carey celebrated her birthday Friday, while Ratner celebrated his 46th birthday Saturday. The friends' joint birthday celebration, in addition to their openly affectionate behavior, has fueled romance rumors.
However, the filmmaker's rep denied that the two are dating Friday, calling the speculation "ridiculous." In a statement, Ratner's rep told People, "They have been best friends for a very long time."
Indeed they have. Ratner first worked with Carey in 1998 when he directed her "I Still Believe" music video. They also teamed up for 1999's "Heartbreaker," 2000's "Thank God I Found You," 2005's "It's Like That," "2005's "We Belong Together," 2008's "Touch My Body" and 2009's "Obsessed" and 2009's "H.A.T.E.U."
In recent weeks, the frequent collaborators have been spending more time together. On March 24, Ratner dined with Carey and Courtney Love and all three shared a picture on Instagram. Earlier in the month, Carey took an Instagram selfie with Ratner, captioning it, "Hanging out in the girls room with @brettrat."
Carey, who prefers to refer to her birthday as an "anniversary," has yet to share any pictures from the birthday trip. She did, however, star in her own photo collage on Instagram. "I [love] U and can't wait for this new year and all the excitement of 2015 Dahhhlings!!!" the five-time Grammy Award winner wrote.
If Carey is dating Ratner, he would be the first person she's romanced since Cannon. After six years of marriage, Carey called it quits with her husband in August 2014. Four months later, the America's Got Talent host filed for divorce; the exes are parents to 3-year-old twins, Moroccan and Monroe.
Last week, a source revealed to E! News that Cannon, 34, and White, 30, have been "taking things slow" and "really getting to know each other" in recent weeks. However, since Cannon's divorce has not been finalized, they have agreed not to talk about their budding relationship "out of respect for Nick's family."
Carey, meanwhile, is gearing up for her upcoming residency at Caesars Palace.