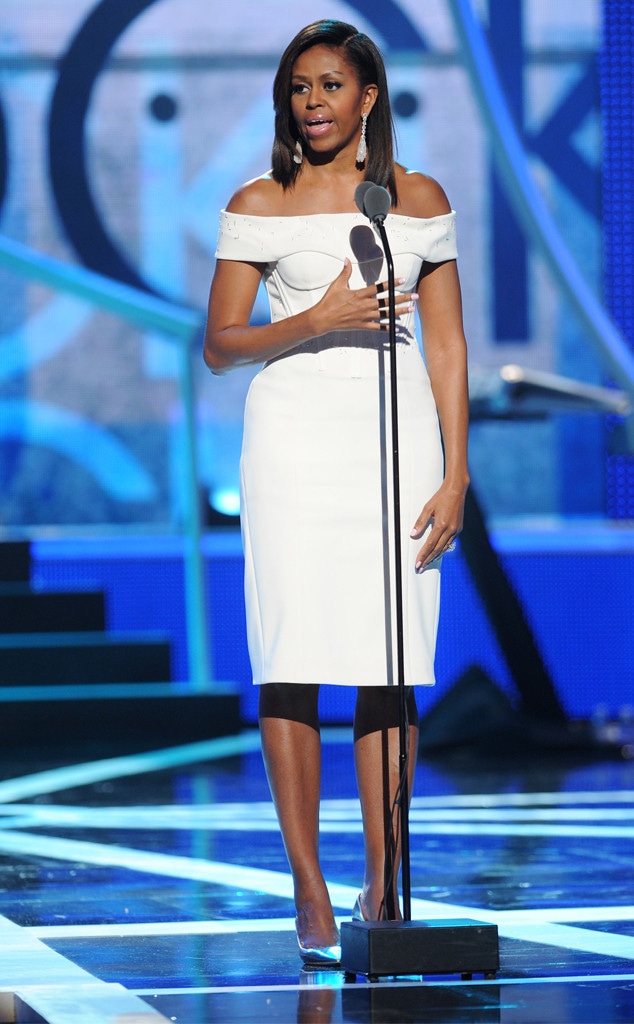 BET
Michelle Obama received a standing ovation on Saturday at BET's 2015 Black Girls Rock! event, where she gave a powerful, inspirational speech.
Looking chic, as usual, in a white, off-the-shoulder, knee-length dress, the First Lady declared into the mic, "to all the young women here tonight, and all across the country, let me say those words again: Black girls rock!"
"We rock! We rock!" she said. "No matter who you are, no matter where you come from, you are beautiful, you are powerful, you are brilliant, you are funny!"
"Let me tell you, I'm so proud of you," she said. "My husband, your president, is so proud of you. And we have such big hopes and dreams for every single one of you."
She said she knows there are "voices that tell you you're not good enough, that you have to look a certain way, act a certain way, that if you speak up, you're too loud. If you step up to lead, you're being bossy." She spoke about overcoming fears in her own life.
"Each of those doubts were challenges. I could shrink away from, or rise up to meet," Obama said.
She also stressed the importance of education, saying she tried her best and worked hard when she was in school. She also praised three young ladies who were brought on stage for excelling in their studies and helping their communities.
"Live life on your own terms," Obama said. "Anyone who has achieved anything in life, knows challenges and failures are components of success."
The event also saw fellow presenter Will Smith showcase sweet PDA with wife Jada Pinkett Smith, who won the Star Power Award. Other honorees included singer Erykah Badu,  Selma director Ava DuVernay and actress Cicely Tyson.
The First Lady started a standing ovation for Tyson, who had sat next to her in the audience, and the two embraced warmly. Obama was also seen dancing in the crowd. Sheila E, Kelly Rowland and Jennifer Hudson were among the performers.
Onstage, Will paid tribute to Jada and presented her with her award. He also spoke about a rumor regarding their marriage.
Backstage, the actor had a little Fresh Prince of Bel-Air reunion!
Black Girls Rock! is the name of a non-profit youth organization that aims to help and empower young black girls. The ceremony will air on BET on April 5.