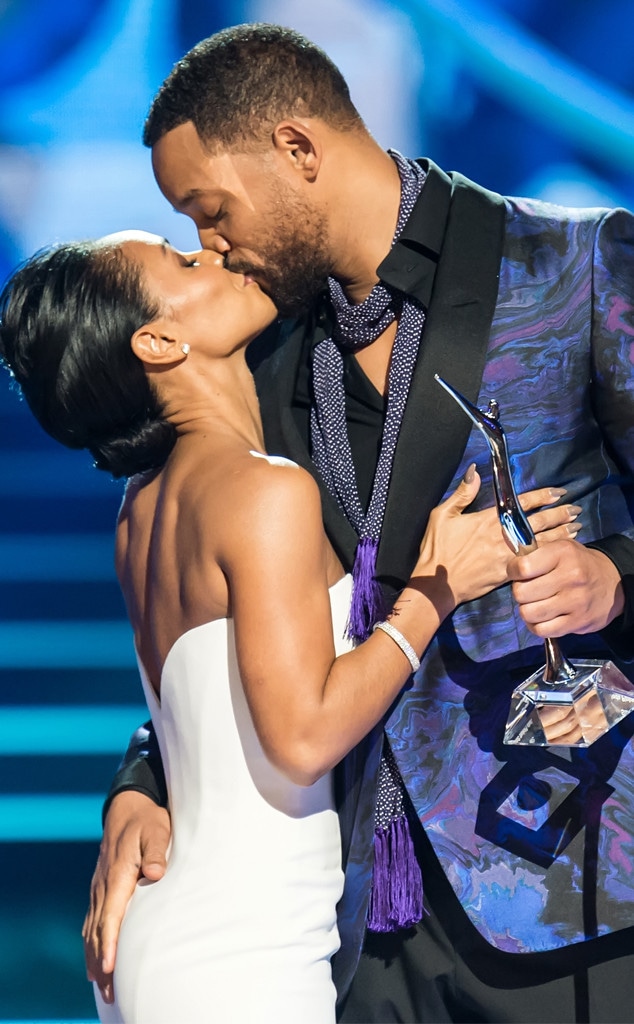 Gilbert Carrasquillo/FilmMagic
When it comes to debunking negative relationship rumors, often actions speak louder than words...
With his hand resting firmly on her butt, Will Smith shared a searing kiss with wife and award recipient Jada Pinkett Smith onstage at BET's 2015 Black Girls Rock! show on Saturday, drawing cheers from the audience.
The 46-year-old actor, who has showcased PDA with the actress at celebrity events before, gave Jada a touching tribute (well, another one) before presenting her with the Star Power Award and addressed past rumors about alleged marital issues between them, which have sprung up several times over the years and which they had always denied.
Will said that last year, as the two lay in bed one morning, he received a Google Alert for a report that stated Jada had filed for divorce. He said in that moment, he started to imagine what his life would have been like without her. He also said he was "happy to be standing here today" and happy the divorce report was false.
Will shared heartwarming memories of Jada: He said he thought about how they met. At the time, she starred in A Low Down Dirty Shame." Will said he knew he "needed her" after watching her in the '80s sitcom A Different World. He went on to say he also thought about him watching her give birth to their two children and rock out as the lead singer of a band. Jada, using the name Jada Koren, formed the nu metal band Wicked Wisdom in 2002.
She and Will are parents to son Jaden Smith, now 16, and daughter Willow Smith, now 14. She and Jada's mom, Adrienne Banfield-Jones, accompanied the couple at the event.
Bennett Raglin/BET/Getty Images for BET
In her acceptance speech, Jada, 43, talked about their daughter, saying she encourages the teen to be open, honest and ask questions and that her child tells her, "I am you. You are me. We are one."
The actress said organizations such as Black Girls Rock are important for so many reasons and brought up a recent incident in which Bloomsburg University baseball player Joey Casselberry joked in a tweet that teen Little League World Series star Mo'ne Davis was a "slut."
"We have a long way to go," she said.
The player was dismissed over his remark, while Davis responded in a truly inspiring, classy way.
"If you want people to treat you like a queen, you have to act like one," Jada added.