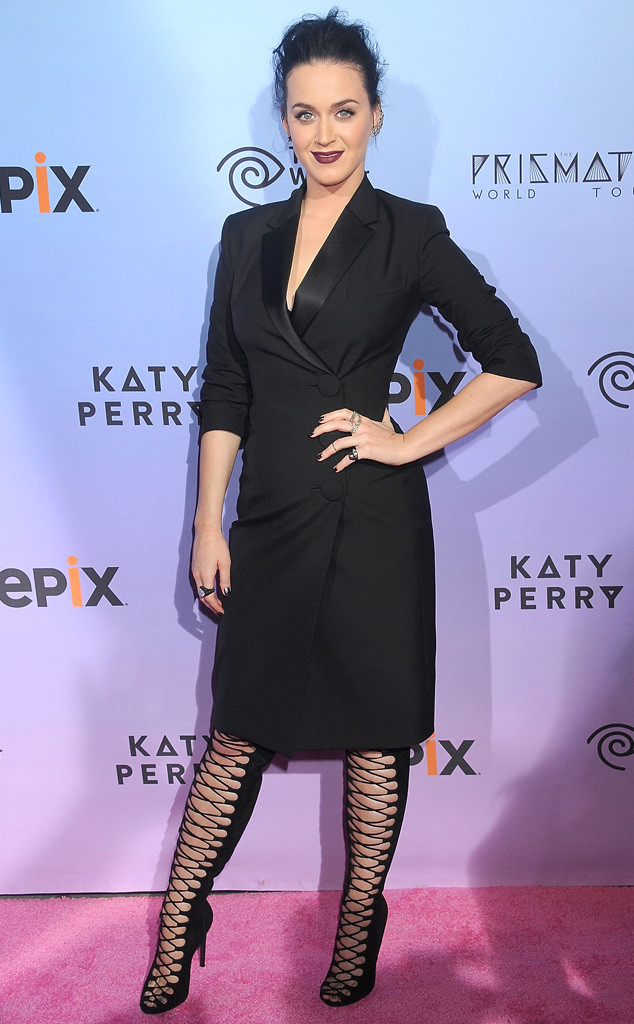 Gregg DeGuire/WireImage
Now this is how you put on a great show!
If you've been wondering where Katy Perry has been in recent months, chances are she's been a little busy performing in sold-out arenas around the world. Lucky for Katy Cats, Epix captured an entire performance in Australia that ultimately became the concert movie Katy Perry: Prismatic World Tour, which premiered Saturday night in the states.
While the countless hits and various costume changes may have kept fans of all ages glued to the TV, we were intrigued to hear what went down behind-the-scenes.
From a daily acupuncture routine to more than few museum visits, check out some surprising facts we learned at the world premiere screening this past Thursday in Downtown Los Angeles.
1) She Woke Up Like This: If there's one think Perry wants to make clear, it's the simple fact that she's not a 9-5 kind of girl. "I really start my day about noon and end my day about 3 a.m.," she revealed before admitting to getting nine hours of sleep a day. Once she wakes up, however, the day begins with a strict regimen that includes acupuncture, a workout, steam, shower and the opportunity to "beautify yourself."
2) Say No to Clubs: While the "Roar" crooner admitted to having "balance" with a mix of work and play, enjoying late nights at hot spots isn't on the top of her to-do list these days. "Rather than going to the club, we go to the museum," she explained. "I get to educate myself along the way. It's really so fun."
3) Shoes Galore: With such a stellar concert wardrobe, you may be curious to know how much footwear Perry actually owns off-stage. The number may just surprise you. "I take a suitcase full," she told Mario Lopez during the Q&A. "I'd probably say about 25 and I wear about five."
4) Time for Date Nights: While Perry didn't reveal any personal details about her romantic life, Lopez couldn't help but ask what the singer's perfect date night would be…in her free time, of course. "So simple," she explained. "I like connection through conversation and jokes. I like jokes and really good food." So dinner and a movie? You bet! "I love a good documentary," she added. "It's really simple."
5) New Music: Even while performing dozens of songs night after night, Perry insists that she still makes time to think of fresh songs for future albums. "I do have ideas in my head for the next five years," she admitted. "I'm always taking notes all around me. I'm an observer of life…to use for my material."