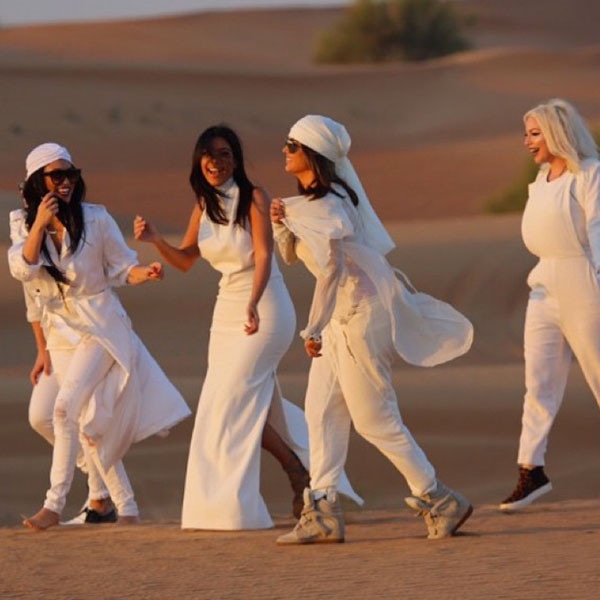 Instagram
Was Kim Kardashian a Carrie, a Charlotte, a Miranda or a Samantha in Dubai?
The 34-year-old Keeping Up With the Kardashians star posted on Saturday on Instagram a series of throwback photos from a trip to Dubai last year, which shows her and her girlfriends having a blast and goofing around while strolling along the sand dunes of a desert outside the United Arab Emirates city.
One of them showed the women having what she called a "Sex and The City moment." The group is dressed in white, with Kardashian showing off her curves and a shapely leg in a white halter gown with a high neckline and a slit, paired with what appear to be stiletto sandals—you know, perfect desert attire. Her friends are wearing pants.
Kardashian also sports dark hair in the photos. The natural brunette dyed her hair blond earlier this month and recently went back to brown, saying on Instagram that the change was for Paris Fashion Week.
In the 2010 film Sex and the City 2, the sassy four BFFs flaunt fierce, colorful, super stylish and super impractical looks in the desert during a trip to the capital of the UAE, Abu Dhabi, which Kardashian also visited.
New Line Cinema / Warner Bros. Home Video
And Samantha experiences some culture shock...which would be expected for Samantha...
New Line Cinema / Warner Bros. Home Video
Kardashian and her pals seemed to enjoy their desert trip thoroughly, as seen in this Instagram-worthy moment.
"Yaaassssss," she wrote.
Kardashian shared the throwback pics in honor of the birthday of one of her traveling companions, Carla DiBello.
Happy Birthday to my one and only @carladibello," she wrote. "So many years as friends, so many memories! I love you so much!!! Living a world apart can't stop our bond!"
Don't forget to check out new episodes of Keeping Up With the Kardashians on Sundays at 9/8c on E!