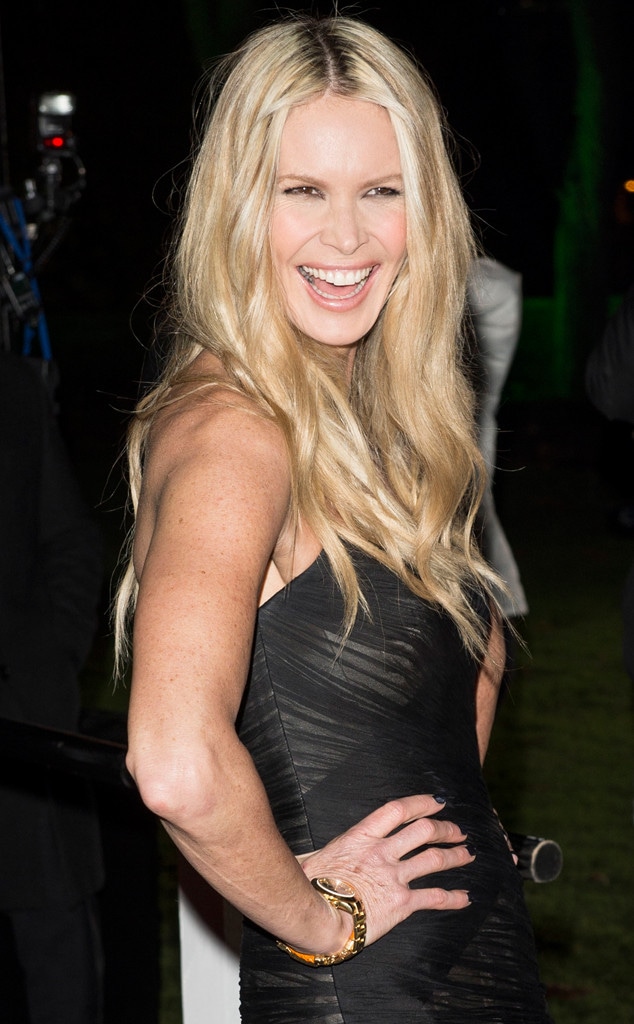 Mark Cuthbert/UK Press via Getty Images
When at the age of 26 you've been officially given the nickname "The Body" by Time magazine, the prospect of getting older might be a tad intimidating.
But not if you're Elle Macpherson!
We caught up with the Australian supermodel, who is celebrating her 51st  birthday today (yes, you read that correctly: 5-1) to get the inside scoop on exactly how she maintains "the body"—and what we can do to look and feel a little more Elle-thy!
"I've learned that an alkaline body and pH-neutral body is a healthier body," Macpherson exclusively tells E! News. "Many people believe that it combats disease, encourages cellular renewal and therefore is anti-aging. When all of our 11 body systems are nourished well and detoxifying properly, they are in their optimal state."
In fact, the model-mogul-mom is so passionate about wellness she co-founded Welleco to create supplements she could use in her own efforts to feel healthier and trim some weight from her midsection (yes, even supermodels get the belly blues).
"I feel that my body hums now that I am taking The Super Elixir™ every day; my workouts are strong, I've lost weight around my middle, my moods are balanced, I don't have sugar cravings and I just feel on top of my game," she dished to us.
And while Macpherson looks so good it hurts (she still wears the Elle out of a bikini, don't you think?), she promises that achieving one's own optimal body doesn't have to be a painful process. In fact, it's all about doing... less?
Manny Hernandez/Getty Images
"Simplifying and de-cluttering my life is a big focus for me," Macpherson says. "I now don't take tons of vitamins and supplements—I only take the Super Elixir. I don't have a large wardrobe and I don't wear a lot of accessories.
"It's cleansing and nourishing to focus only on the essentials—it puts you in a strong place. Quality over quantity!" 
And perhaps most importantly, she adds, "I always sleep seven hours a night, and laugh as much as I can!"
But we also asked Macpherson to really put the pieces together for us—and she did! Check out how she gets it done:
Stephen Lovekin/Getty images
• Upon waking at 5 a.m., "I drink 500 mililiters of room-temperature water every day upon waking up.  It's so important to stay hydrated and I aim to have 3 liters of water a day."
• "At around 6:30 a.m. I eat a breakfast that contains protein. It is either one poached egg on sunflower or dark rye bread (wheat-free), or some Canadian bacon (no fat or preservatives or antibiotics).  I also like to mix it up and will have oatmeal with agave, half of a grapefruit or some blueberries. I love an espresso, and will always have one, followed by 500 mililiters of water."
• "At 8:30 a.m., I have 2 teaspoons of The Super Elixir [or TSE] in cold coconut water in my Super Shaker."
•  "I schedule my daily workouts for 9 a.m. after the school run. I'll do a different sport every day if I can. I mix it up, but no matter what, I do 45 minutes of something a day. I love the outdoors. If I'm by the water, I love to paddleboard, surf, swim laps or water ski. I also love to hike or run for about 50 minutes a day. Staying hydrated is so important, and I always have 500 mililiters of water during my workout."
• "For lunch, I usually have a vegetarian kale or spinach salad with some of my favorite ingredients—avocado, beets, sunflower seeds, goats cheese, quinoa or lentils!"
• For an afternoon snack, "I love soaked raw almonds in spring water and always keep some around the house to snack on. And I make sure to have another 1.5 liters of water between lunch and dinner. If I'm hungry or craving sugar, I'll have another 2 teaspoons of TSE shaken in coconut water—or a Super Shake made with my new Nourishing Protein. It's a super-clean, pea protein powder that is Peruvian chocolate flavored. I take it with vanilla almond milk in a blender. Some of my favorite snacks are coconut (anything coconut! Fresh coconut meat if I'm in the Bahamas, or shaved ice), apples with almond butter [or ] sashimi."
• "Dinner is always fresh fish and vegetables, and I try my best to eat before 7 p.m."
• "I love dark chocolate so I may have a bit of Green & Black's in the evening, or raw cocoa nibs. If I'm feeling extra indulgent, I love meringue pie."
Want to have more of that Macpherson-esque energy? Whip up one of these for a healthy snack:
The Super Elixir Wheatgrass Latté—for a digestive boost
Ingredients:
Shot of wheatgrass
Turmeric
Cold orange juice
Cold lemon juice
2 tsp THE SUPER ELIXIR™
Directions:
Cold press the below ingredients for a nutrient-rich alkaline creation!
The Super Elixir™ Alkalising Smoothie Bowl
Ingredients:
1 Green apple
5 Large celery stalks
1 Cucumber
5 Kale stalks
1 Handful parsley
1 Frozen banana
2 tsp THE SUPER ELIXIR™
Lemon juice
Directions:
Blend this alkaline creation in a high-powered blender until smooth!
Top with mango or seasonal fruit