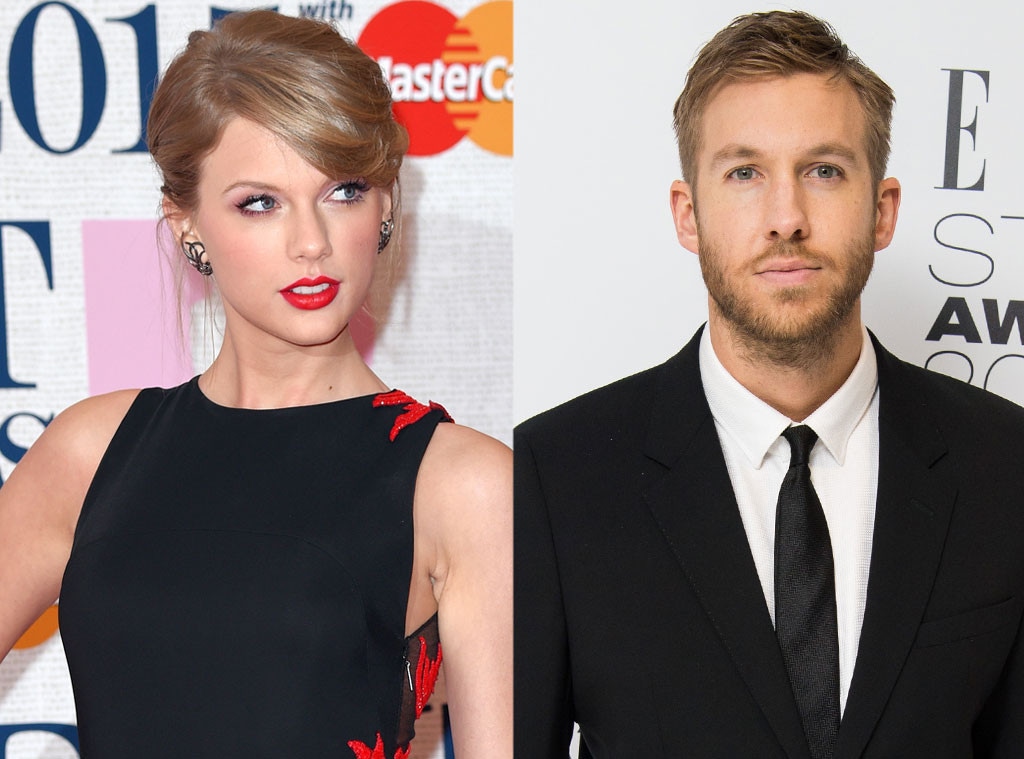 Getty Images
Sounds like "getting snuggly" at the Kenny Chesney concert is just the tip of the iceberg for budding couple Taylor Swift and Calvin Harris. 
Just one day after the 24-year-old singer and the 31-year-old record producer were spotted looking cozy in Nashville, a source tells E! News that the two have actually been hanging out since late February when they first met at the 2015 Brit Awards.
What's more? The insider reveals that the Scottish DJ is actually quite smitten with the superstar!  
"He is taken with her. They connected properly at the Brits [Awards], and it's been going on since then," the source says, adding that the award ceremony "was when they really connected."
And case you don't see the appeal of Mr. Harris, let us remind you that the DJ looks like this with his shirt off (yep, they make one fine-looking duo). 
"It's been going on a few weeks," the insider reveals. "They actually make a great couple. They are just getting to know each other and we'll see what happens." 
Neither Swift nor Harris has confirmed the romance rumors. Speculation went into full swing earlier this week when the two were spotted together at Whole Foods in Nashville.
"He is such a good guy," the insider says of Harris. "He's serious but also very goofy at the same time. She really likes that combination. It's exciting for both of them. It's hard to meet someone in their business." 
Swift has previously opened up about the difficulties of dating in the industry, telling People, "I'm not going to compromise the happiness and independence that I've found for just anybody. The idea of a date gives me a partial panic attack!"
So, is Harris the one who will finally sweep Swift off her feet? 
While it seems too early to tell, the two apparently have a promising connection. "They have been having secret meetups in L.A.," the source reveals. 
Back in February, inside sources at the 2015 Brit Awards reportedly claimed that the two artists "have a mutual respect for each other's work, and spent most of the evening talking about music."
Additionally, the source said that "Taylor is producing more dance music now and would love to write a track with Calvin."
Harris was most recently linked to model Aarika Wolf—they broke up in February.
Swift, meanwhile, hasn't been in a serious relationship since she split from One Direction's Harry Styles in January 2013. Prior to that, she romanced Jake Gyllenhaal, Joe Jonas, Conor Kennedy, Taylor Lautner and John Mayer.
Last year, while promoting her 1989 album, the "Blank Space" singer told E! news she hadn't sworn off dating, but she was being "very protective" of her happiness.
"I found a place in my life that feels really great and I'm not willing to compromise that for just anyone, and so, you can paraphrase that all you want into something very extreme, but they make what I say extreme no matter what I say. I'm really happy about the fact that being single doesn't feel like being alone," she said. "I have love in my life, I just don't have a relationship, and that feels really natural right now."