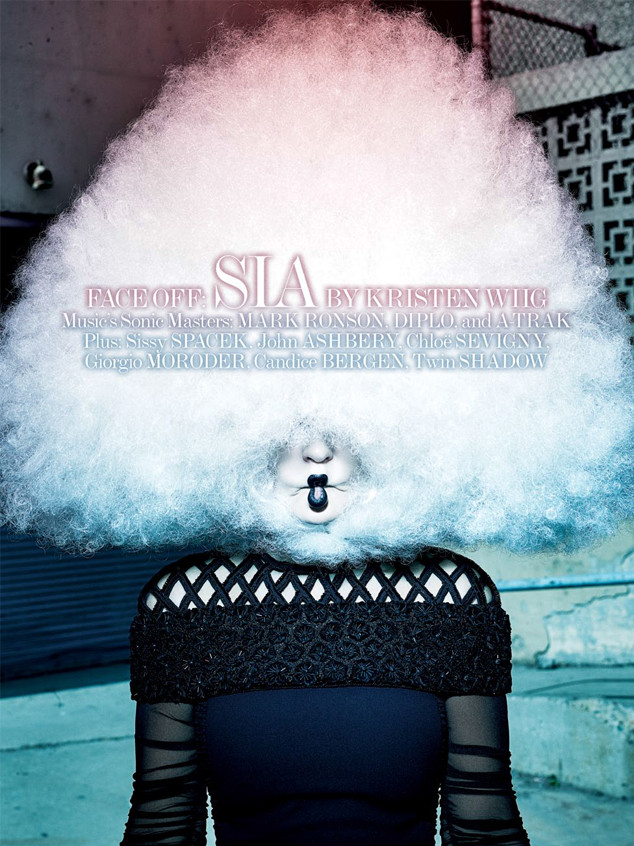 Interview Magazine
It's no secret that Sia doesn't want to be famous. In fact, the singer never shows her face at public events, and instead sports her signature blond wig, in an effort to maintain some sense of anonymity.
"For me, writing and recording the songs are fine, but then promoting it is usually, like ... I think Tom Waits called it 'doing the dishes'-promo, talking about yourself all the time, answering the same questions for, like, a trillion magazines or TV shows or radio shows," she tells pal Kristen Wiig, who, along with Maddie Ziegler, performed at Grammys as the singer sang her hit tune "Chandelier" with her back to the audience. "And it sort of makes you feel crazy. It literally f--ks with my sanity. I stop feeling authentic because I'm trying to find ways to say the same thing differently. And after a while, you can't. It becomes bad for my self-esteem."
In her sit-down with Interview magazine, which Sia admits is "only the fourth interview" she's done, the recording artist, who first began her singing career in the mid-90s, explains her aversion to fame and album promotion.