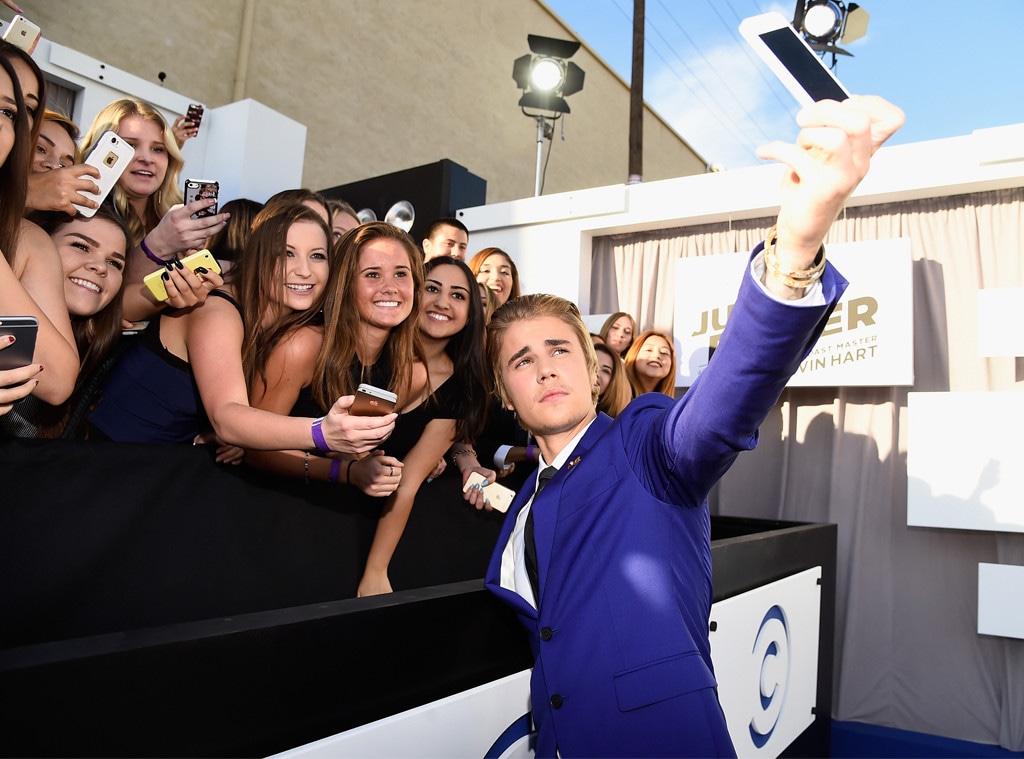 Photo by Frazer Harrison/Getty Images
Justin Bieber wants us to know he's changed. He's certainly, most definitely, not who we thought he was.
He has spent the past two months on an "I'm a Good Guy" campaign. Carefully showing us his new persona as an earnest, self-aware adult who is truly sorry about the mistakes he's made. The person who shared headlines with the word gate—Egggate, Monkeygate—has disappeared.
He told former President Bill Clinton to "f--k off." Publicly wished Anne Frank had been a Belieber. Spent a night in jail. Was caught scuffling with Orlando Bloom over Miranda Kerr. "Turned a plane into a bong," his words, not ours. And left a never-ending trail of carnage in his wake, filled with fast cars and scantily clad models. His legal woes and court dates read like a grocery list for a family of four. Bad Bieber became a daily topic in our morning news meetings. We felt duped. Because here's the thing about fame: It magnifies the good and the bad. It's the ultimate truth-teller. The talented and lovable kid who captured our hearts in Never Say Never was seemingly a jerk.
He had become a cliché. A child star gone bad. E! investigates how they saved Justin Bieber, and will it work?
1. He Was Given an Ultimatum: At the end of last fall, Bieber's team sat him down and gave him two choices: Change your behavior or you might get dumped.
"It was an intervention of sorts," says one insider on the condition of anonymity. "They knew the only way to fix things was to threaten to take it all away."
"They had had enough of all his ridiculousness. They told him his record company was in danger of dropping him. It was an ultimatum. His behavior had become unacceptable."
The Bieber problem was more than just an embarrassment; it was threatening to impact the multi-billion dollar engine at the heart of Bieber, Inc. And time was running out. While his young fans remained devoted to him, their parents were less impressed. And that was a big problem, because they were the ones who paid for the gas to drive to his concerts and spent money on his merchandise. The empire was starting to crumble.
"His independence had started to bleed into the business side of things," echoes another source. "He was getting into legal trouble, and when that stuff starts to happen, what was someone's previously concerned opinion becomes fact. It's undeniable."
With the threat of being fired looming over his head, he was left with no option. "He knew he had to start listening. If he didn't, he could lose everything."
2. The Death of Jelena: When Justin and Selena Gomez first got together, they kept their relationship secret for a long time. An age-old trick regularly employed by teen heartthrobs (Justin Timberlake, One Direction, every boy-bander that ever existed...). The aim being to break as many hearts as possible. For Bieber, it served a dual purpose: protecting Gomez from death threats and keeping the Bieber fairy tale intact. The allure that he was single allowed his devoted fans to live in a fantasy world where they believed he was picturing them as he sang his songs. It established him as their Prince Charming.
In 2011, Bieber and Gomez couldn't deny their romance anymore and made the ultimate statement—by posing on the red carpet at the Vanity Fair Oscar party. Their coming out coincided with Bieber realizing the true power of his fame and how he could use it. The love affair made him look grounded and family orientated. It reminded us of his innocence, this was his first girlfriend, how cute! We relished in their sweet PDA on social media. They were in love.
But in 2013 their happily ever after started to unravel and began to overshadow almost everything. If we weren't talking about his legal troubles, we were discussing his love life and whether he was on or off with Gomez. Rumors of him cheating were rampant—he was painted as a playboy, she the damsel-in-distress. He dominated the headlines for everything but his music. And that was a big problem. Finally, after four years, Jelena called it quits—a breakup confirmed to the world when he un-followed her on Instagram. The demise of the power couple gave Bieber's team a golden opportunity to change the public focus to his work.
Says one source: "It's good that she is not around, he can be taken more seriously. That's what everyone wants. Being in the headlines for your love life is distracting to the actual product."
3. He Disappeared: After 18 months of misbehaving, we were all feeling the fatigue. He was fast becoming irrelevant. It wasn't that he couldn't get arrested any more; it was that he could get arrested, but no one cared. His team needed to do something fast.
"They decided to take him out of the limelight for a bit," says a source. "Purposely giving the public some space. He was overexposed. The time also allowed Justin to do some intense soul searching."
The circus was finally over. Without the daily calorific menu of Bieber pictured driving a sleek car with his usual posse of friends, there was no story to cover. 
For Bieber's 21st birthday—a blowout guaranteed to become a paparazzi dream—his team arranged for him to celebrate on a private island near Grenada, away from the prying eyes of reporters. (There was a later Las Vegas birthday party, but it was a money deal and he was on his best behavior, according to an eyewitness.) It meant Bieber could be himself; dance with whomever he chose and not be judged for it. Says a friend, "It wasn't that he had stopped hanging out with his best friends, it was that he was more strategic about what he showed the world. They were there with him at his birthday party, it's just that their friendships were not being flaunted like they were before. And his friends were never really the problem; Justin's behavior was down to him."
Erasing him from the public consciousness gave them time to plan how they were going to introduce Justin 2.0 to the world.
4. The Apology Tour: People hated Justin Bieber. In fact, they really hated him. Just the mention of his name could elicit a collective groan from a room full of grown adults. The onetime brightest star in the world was on track to becoming the male version of Lindsay Lohan.
To turn it around, he had to remind fans that he was a likeable guy. He had to become apologetic, regretful, considerate and somehow elicit sympathy for his past behavior. He needed to remind us he was still the same sweet YouTube star from Canada.
First up, they decided to give their newly matured star a great opening act. A forum where he could have maximum exposure to seduce us again.
At the end of January, Bieber made his first attempt with a brief appearance on The Ellen DeGeneres Show. But the pressure got to him. In front of a television audience of almost four million, he looked nervous, out of his depth. His quotes were lackluster and he came across as inauthentic. It seemed rehearsed, the inner workings of his PR machine laid bare.
"I think it's just cool to be able to laugh at yourself so...I've done some things that might not of been the greatest," he said. "I just want to be able to...kind of just kind own up to some of the things."
The appearance was a belly-flop, by his own admission.
Later that night, Bieber took matters into his own hands and recorded a heartfelt confessional into his cell phone. Away from the studio lights, the stage managers and glossy sets, he delivered a raw and intense mea culpa. The unpolished video had the kind of honesty you get when you wake up at 2 a.m., alone with your own thoughts.
"I was not who I was pretending to be," he admitted in a soft voice. "...We often pretend to be something we're not as a cover up of what we're truly feeling inside and there was a lot of feelings going on in there, just being young and growing up in this business is hard, growing up in general is hard...I really want people to know how much I care, how much I care about people..."
This time, it was a home run. By the time of publishing this article, his emotionally charged apology had been viewed over 5 million times on his Facebook page.
Another appearance on Ellen followed and then there was his Men's Health cover for their Reinvention Issue, no less (as if the message wasn't clear enough). With an average reader in their late 30s, Men's Health ticked three important boxes for Bieber: exposure to an older audience; a chance to present a healthier image; plus it allowed him to introduce us to the idea he is ready to break out of his pop-star bubble.
Amidst the sympathy-bait quotes was evidence Bieber might be ready to expand his horizons altogether. And like his ex-girlfriend, one day set his sights on a movie career—he has already dabbled in acting. In recent weeks, he has been pictured hanging with Leonardo DiCaprio, hailed a member of the new Brat Pack (by the ultimate tastemaker, Anna Wintour) and admitted his man-crush is Ben Affleck.
His Instagram account also underwent plastic surgery. The snaps of his cheetah-print sports car, private jets and other remnants of a rock-star existence are few and far between. Instead his puppy Esther and evidence of a new wholesome lifestyle have gained prominence. A message amplified further by his Calvin Klein deal.
5. The Roast: The Comedy Central roast played out like a star-studded funeral for the Bieber of old. It was the final curtain call and what Bieber's team hope will be the end of the conversation about his past.
Bieber knows if he can face his critics and laugh about the worst of his mistakes, it will prove to the world, once and for all, that he has matured. His team pursued the opportunity, hard. They knew if they could pull it off this would be their ace card.
Says a source: "He was very incentivized to do it. He is very interested in being perceived as being an adult in charge of his own career. He understands the value of what he's done and wanting to let the world know he can laugh at himself."
Once it was secured, they worked diligently to secure a broad guest list to make up the audience. For Comedy Central, the A-list roasters would translate into ratings. For Team Bieber, credibility. They wouldn't be accused of giving their star a soft landing.
Bieber's manager Scooter Braun reached out personally to some of his most famous friends including Ellen DeGeneres—she declined. But Shaquille O'Neal, Martha Stewart, Ludacris, Snoop Dogg and Will Ferrell were game.
At the end of his roast tonight, Bieber will look into the camera and promise us, "I look forward to being someone you're proud of...You have my word—I will not end up broken, pathetic, bitter or sitting on someone else's roast. I'm at a moment of change. This is a new day."
But do we believe him?
His pastor Judah Smith certainly does, telling E! News' Jason Kennedy and Catt Sadler in a recent interview, "He's being more of who he really is, authentic and genuine. All we can ever do is take one day at a time and put one foot in front of the other, and do the best we can do. I love him and I think his future is pretty bright."
But the truth is, the transition from child star to adulthood is laden with potholes, as Britney Spears can testify. And Justin Bieber is still in danger of one day becoming a Lifetime movie.
There is no doubt he possesses enough talent to last a long time in the public eye. He can sing, dance and is undoubtedly handsome; he's the full package. But at 21, he's exposed to more temptations than ever before. And that's a dangerous place to be when you have a black American Express card in your pocket.
"There is obviously concern he might stop listening to his team again, " says one source. "But he does seem ready for this. He knows that his previous behavior was unacceptable. This is a new phase for him." Although they warn, "He does still have a wild child streak." Who doesn't?
And if former jailbird Martha Stewart, a 73-year-old grandma, can forgive him, then why can't we? Surely everyone deserves a second chance.