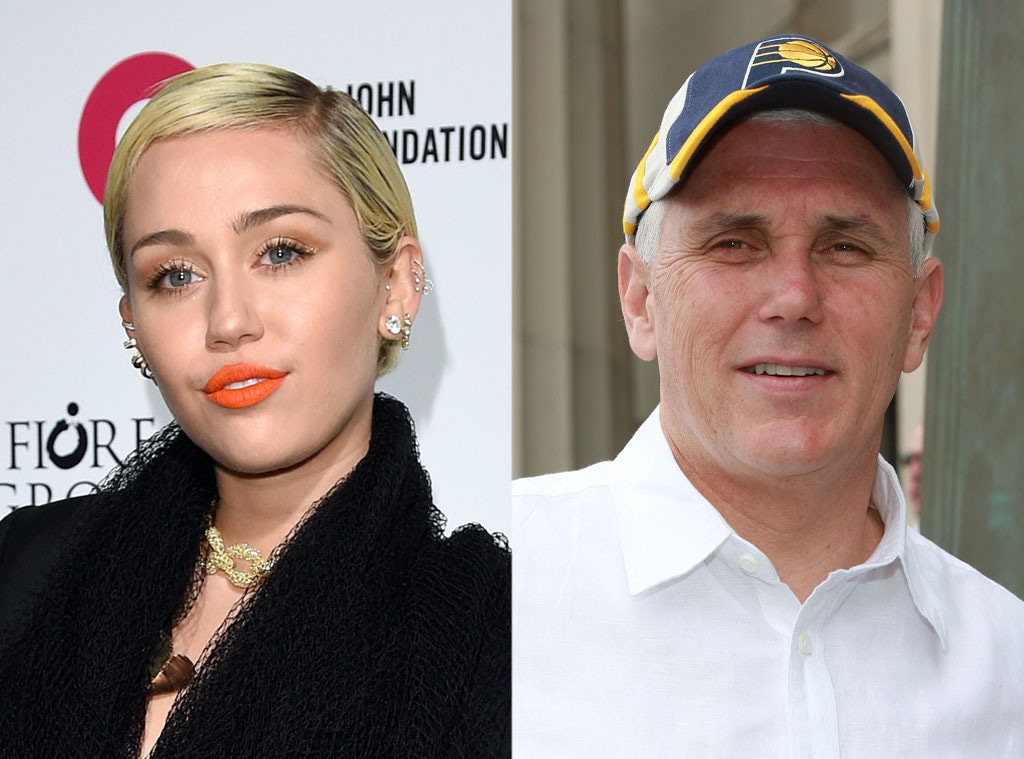 Getty Images
Miley Cyrus is putting Indiana Governor Mike Pence on blast over his religious freedom bill that allows businesses and associations to discriminate against homosexuals.
The 22-year-old "We Can't Stop" singer took to Instagram earlier today to share a picture of the Republican politico with a pro-LGBT message.
"You're an asshole @govpenceIN," the pop star wrote Thursday. "The only place that has more idiots than Instagram is in politics@braisoncwukong thank you for standing up for what is right! We need more strong heterosexual men fighting for equality in both men and women! Why are the macho afraid to love muchoooo?!?"
Miley tagged her brother Braison in the post because he too took a stand against Pence and his bill.
"This is Indiana Senator, Mike Pence. He is currently trying to pass a law in Indiana to allow businesses to discriminate against gays under the Religious Freedom Restoration Act. This is wrong in so many ways. Tweet him and tell him he's an asshole @govpenceIN," Braison posted on Instagram.
Miley isn't the only celeb to speak out over Pence's bill. Openly gay stars have been taking to Twitter to slam the governor too. "A sad day for all in #INDIANA. Gov.Pence, you did not lead today. You were not courageous," Dustin Lance Black wrote.
Samantha Ronson added, "Indiana ain't for me!" while George Takei shared, "Outraged over Indiana Freedom to Discriminate law, signed today. LGBTs aren't 2nd class citizens. #BoycottIndiana #Pence."
Andy Cohen also replied to a fan writing, "Indiana Gov. Mike Pence expected 2 sign bill that'd allow LGBT customers to be turned away. Jackhole of week? MONTH."