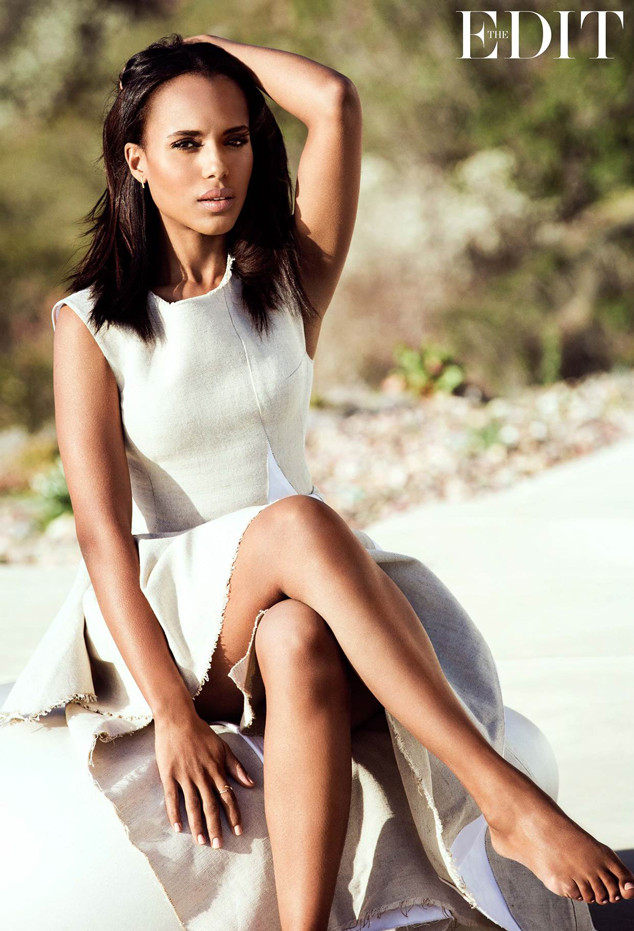 Photograph by Bjorn Iooss / Courtesy of The EDIT / Net-A-Porter.com
Kerry Washington was once wary of using Twitter, but those days are long done!
The Scandal star looks stunning on the cover of Net-A-Porter.com's The EDIT, and in the accompanying feature, she admits that nothing—not even childbirth—will stop her from live-tweeting the ABC series.
"Every Thursday within three weeks of my [daughter Isabelle's] due date, I loaded up pre-tweets based on the episodes and what I would want to say. I tweeted in the very early stages of my labor. I figured that if I went completely silent on social media, then people would know I was in the hospital!" she says.
That sounds like the kind of covert operation that Olivia Pope might oversee!
One of the things Washington loves most about Shonda Rhimes' series is that the main character isn't perfect. "She never wrote Olivia Pope to be a role model; she wrote her to be a human being, and part of what people identify with so much is that she is conflicted," she says of Olivia, whose love triangle makes for must-see TV. "In some ways, she's so aspirational—you want to walk like her, dress like her, command attention like her and control a situation like her. In other ways, she's a warning of what not to be." The biggest difference between herself and Olivia, Washington, 38, jokes, is "a lot of therapy!"
"Not to say that I have it all together, but I think I have a little bit more awareness about my behavior patterns and I do the work it takes to get out of them," says the star, who's played the part since 2012.