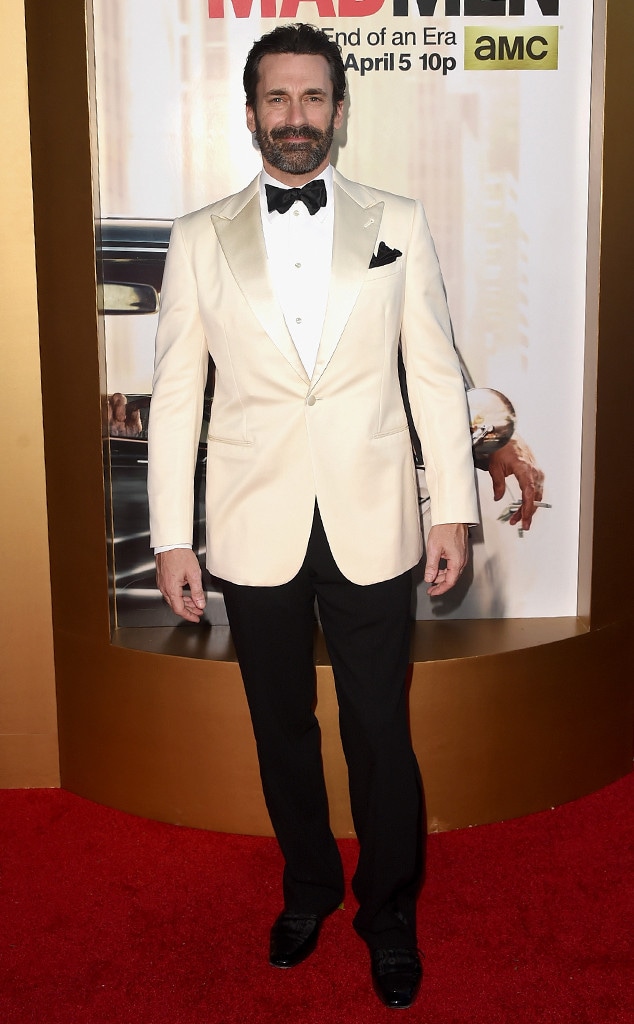 Jason Merritt/Getty Images
Sobriety looks sexy on Jon Hamm!

The actor returned to the red carpet just one day after his rep confirmed to E! News that the 44-year-old had recently completed a 30-day treatment program for alcohol addiction. Hamm looked dapper as ever in an ivory suit coat and black pants. Hamm happily posed for photographers at AMC's celebration of the final seven episodes of Mad Men—dubbed the Black and Red Ball—at L.A.'s Dorothy Chandler Pavilion.
Co-stars including Christina Hendricks, January Jones and Kiernan Shipka also attended the event.
The event marked Hamm's first public appearance since news broke that he entered rehab at Silver Hill Hospital in New Canaan, Conn. at the end of February. Earlier that afternoon, he broke his silence about his private struggle, telling Australia's TV Week, "Life throws a lot at you sometimes, and you have to deal with it as much as you can. I've been very fortunate that throughout the most recent 24-hour period, I've had a lot of family and friends support me." It's easy to draw parallels between Hamm and his character, Don Draper, but Hamm said it's more complicated than that. "Obviously there can be a lot of discussion about how much of this is related to that, and honestly I don't have much to say about that either," the actor continued. "I've said in varying ways that acting can be a difficult endeavor, certainly not as difficult as the recent example I used [in GQ's April 2015 issue] of being a baby heart surgeon."
"It does present its own challenges," Hamm told TV Week, "and so does life."
The actor doesn't plan to discuss his rehab stint any further. "I understand it constitutes news these days, but it's between me and my family and not something for public consumption," he explained.
Hamm's rep said Tuesday that he sought help "with the support of his longtime partner Jennifer Westfeldt." Post-treatment, an insider told E! News, "He's doing well now and appears to be much happier."
With Mad Men's final season premiering Apr. 5, what's next for Hamm?
"Look, the one constant thing I've had in my career is now removed," he told GQ. "And that's an eye-opener: Are people still going to take me seriously? Am I just going to do romantic comedies for the rest of my life? What's next? And I don't know, you know? I wish I was smug enough to have had a grand plan. I guess some people would say, 'Okay, the last three years of Mad Men is going to be like this: I want to do a play. I want to do this. I want to do that.' I was just like, 'I want to do something that seems cool.'"