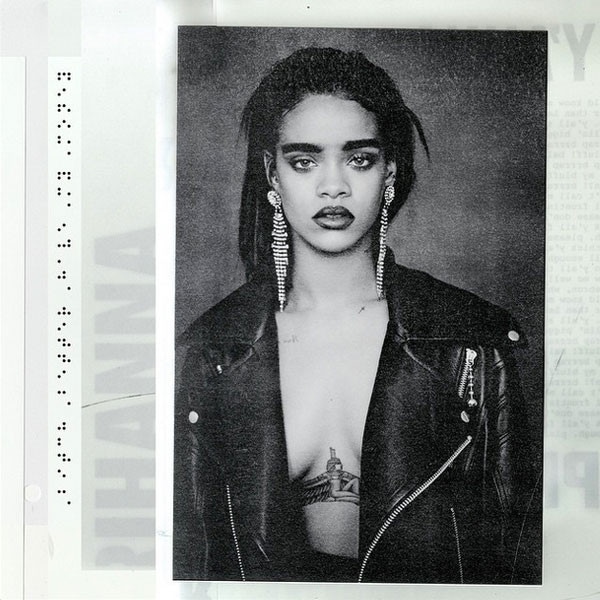 Instagram
We love a good surprise, but—goodness!—there have been so many when it comes to music lately! And it seems like Rihanna is the latest star to do it.
In what seems to be another case of the Hey-guess-what!-Here's-my-new-album trend that's been going on, the singer took to Twitter and Instagram to seemingly reveal her new album that will be dropping—wait for it—TOMORROW.
RiRi posted a black-and-white photo of herself going topless with nothing but a leather jacket covering her tatas while rocking some serious Cara Delevingne-esque brows and captioned the shot, "rihannaNOW.com #R8 #BBHMM #March26." Understandably so, questions instantly followed...
Is this the album cover? Why are her eyebrows like that? Is she really dropping an album tomorrow? What is #BBHMM? WHY WON'T SHE TELL US MORE INFORMATION?!
It's not a complete surprise that the Unapologetic singer has been working on new music, but fans didn't know when they'd be able to get their hands on a new album.
Rihanna has been using social media to offer little snippets of what's to come in recent months, while leaving details up in the air.
Back in November, E! News caught up with the Barbados beauty and asked her the one question every member of Rihanna Navy has been wondering: When's are we getting new music?!
"Tell them they'll have to wait!" Rihanna told us. She added with a smile, "I'm in the studio right now with a killer team and I'm excited about what we're doing."
While Rihanna stayed tight-lipped about what she's been working on in the studio, Ne-Yo, who frequently collaborates with the singer, opened up about her eighth album at the time.
"The stuff I've heard is absolutely incredible. I can't speak on what it sounds like because I'll get in trouble. But I definitely feel like people are gonna enjoy it," he dished. "Anybody that's a Rihanna fan is gonna stay a Rihanna fan, and anybody that's not might become a Rihanna fan...just gear up for it."
So much excitement, we almost can't take it!