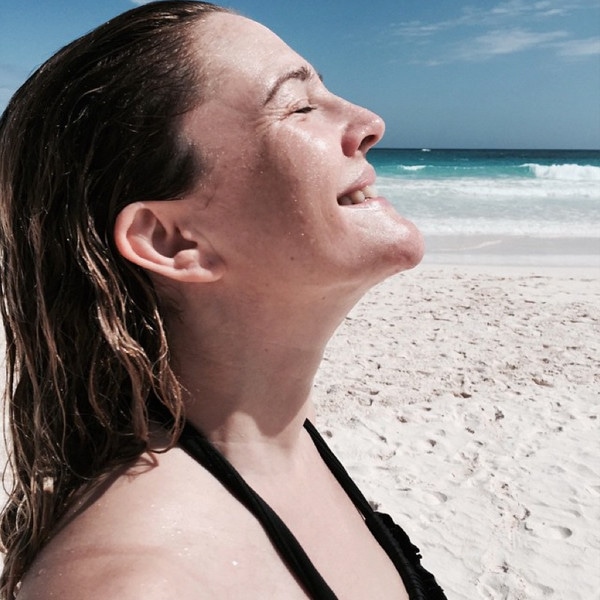 Instagram
For someone who looks so fabulous after giving birth, Drew Barrymore's latest comments about her body sure are surprising!
In a new interview with Glamour magazine, the actress is revealing more than a few personal truths about her figure. Her honest words may surprise even her biggest fans.
"After making two babies, holy cow, does your body do some crazy stuff," the Miss You Already star explained to the publication. "It's hard to stay positive and love yourself."
She added, "You feel like a kangaroo with a giant pouch; everything's saggy and weird." Well, that makes you the prettiest kangaroo, Drew.
Barrymore is more than confident about one part of her body. Turns out she absolutely loves her blond locks that grace countless red carpets.
"I destroy it time and time again, and it's still there semi-happy," she revealed. "I love playing with it; it's like my personal plant—I keep getting to prune it."
Perhaps the best beauty secret the 40-year-old beauty has is to be grateful for her family. Married to Will Kopelman, the actress is a proud mom to two children who simply light up her world. 
"I'm very happy," she recently told E! News. "Marriage is great and the kids are the best. I know that everyone says you're supposed to treat your spouse as equal as your kids, but I struggle every day of who I love the most. I love them all!"
And whenever her body insecurities surface, Barrymore turns to a famous author who can provide valuable lessons for people of any age.
"You think about how beautiful it is that you're able to make children," she told Glamour. "When I lose sight of that, I exercise, read Dr. Seuss's Oh, the Places You'll Go!, and spend time with my kids. Then I start to see things that are bigger than myself."