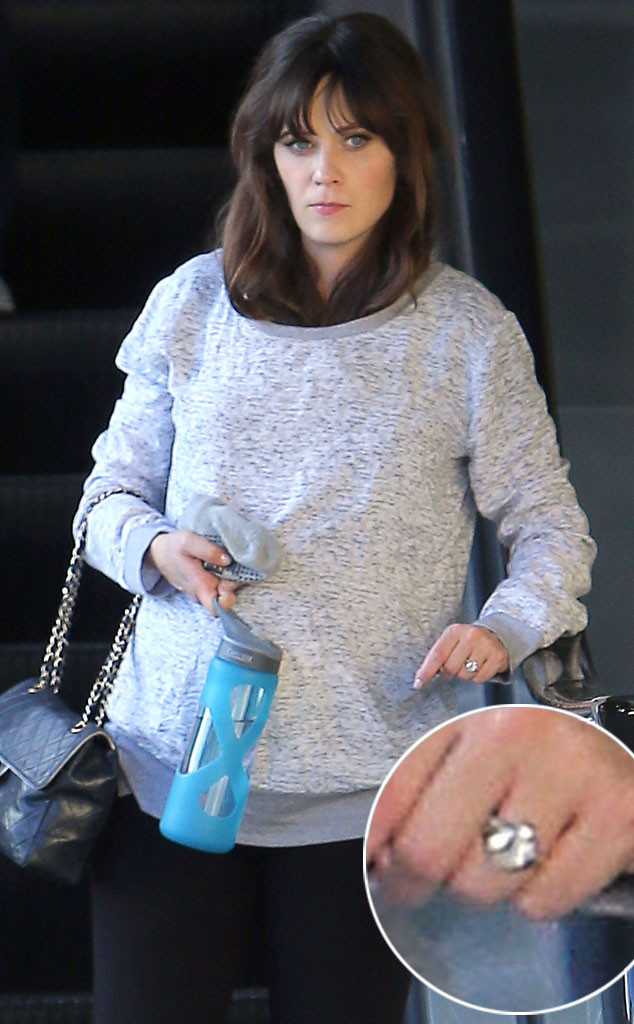 4CRNS/Dunkin D/FAMEFLYNET PICTURES
There they are!
Meaning, there's Zooey Deschanel, her growing baby bump and her stunning engagement diamond! This, of course, is the sparkler she received from producer fiancé (and soon-to-be-dad) Jacob Pechenik. The couple announced their happy engagement and baby news back in January.
The New Girl star gave us a good flash of her round (or pear-shaped, if we tilt our heads and squint) diamond when she was leaving a pilates class in Beverly Hills. The mom-to-be was spotted looking comfy and casual in leggings, furry Ugg boots and a heather gray sweater. It seems that Zooey is keeping fit well into her pregnancy, as she's been seen going on hikes with her man.
Also on display? That growing bump: We've spotted Zooey covered up with a chic coat on date night with Jacob, but the actress is now sporting figure-hugging tops that put her burgeoning bump to, well, the forefront! Zooey looks quite healthy and happy, of course. Now we only hope that there are more bump-and-bling sightings to come.