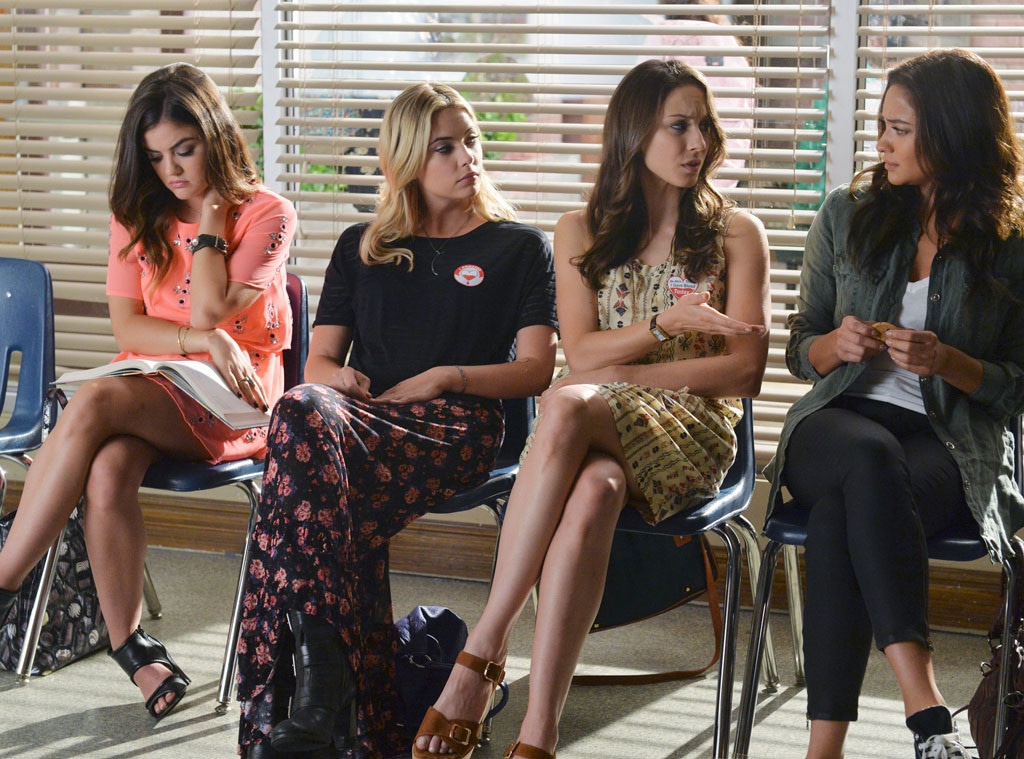 ABC Family
Who needs college?!
Pretty Little Liars will be staging a major time-jump in its sixth season, E! News can exclusively reveal.
While the jump won't happen within the first 10 episodes of the ABC Family hit's next season, fans can expect to see Aria (Lucy Hale), Spencer (Troian Bellisario), Hanna (Ashley Benson) and Emily (Shay Mitchell) graduate from high school on-screen, but gain "the freshman 15" and attend college off-screen before the season ends.
"I did say we're going to do a four-year time jump and we will honor that before the end of season six," executive producer Marlene King tells us. "It's really exciting I can't wait to see the girls after they come back from college. It's going to be awesome."
But before they head off to college, the Liars have to deal with the fallout from the season five finale's major "A" reveal. Spoiler alert! In Tuesday night's episode, "A"'s name was revealed: Charles DiLaurentis, and he had the four girls, and a not-really-dead Mona (Janel Parrish), trapped in his own personal dollhouse, which is exactly where we will see them at the beginning of season six. 
"We will start next season right were we left off, with the girls trapped and they don't get out immediately," King previews, adding that "season six takes place in a very condensed period of time." 
And fans should expect to see the Liars graduate from high school sooner rather than later. "When we end the finale, it's already late April-early May…but in 10 episodes, the Liars will be graduating," she reveals. "They will be putting this episode of Pretty Little Liars to bed."
Yes, that means Pretty Little Liars will be resolving the whole why of it all when it comes to "A" within the first 10 episodes, which King says she finds "exciting" as a storyteller.
"It's just a really exciting season of answers and closure. As we go, it's connecting these big dots and I want the fans to figure it out on their own," she says of revealing how Charles DiLaurentis came to be the series ultimate big bad. "Many are getting very, very close to figuring out the how and the why of it all. I've seen some very close theories online lately."
While King wouldn't say if an actor had already been cast as Charles or if it's someone we've already seen (his face was hidden behind a mask throughout the finale), she promises, "Yes, you will see Charles' face. The girls will come face-to-face with 'A' before the end of the summer and 'A' will be completely unmasked."
Are you excited for Pretty Little Liars' big time-jump? Any Charles theories you want to share? Sound off in the comments!