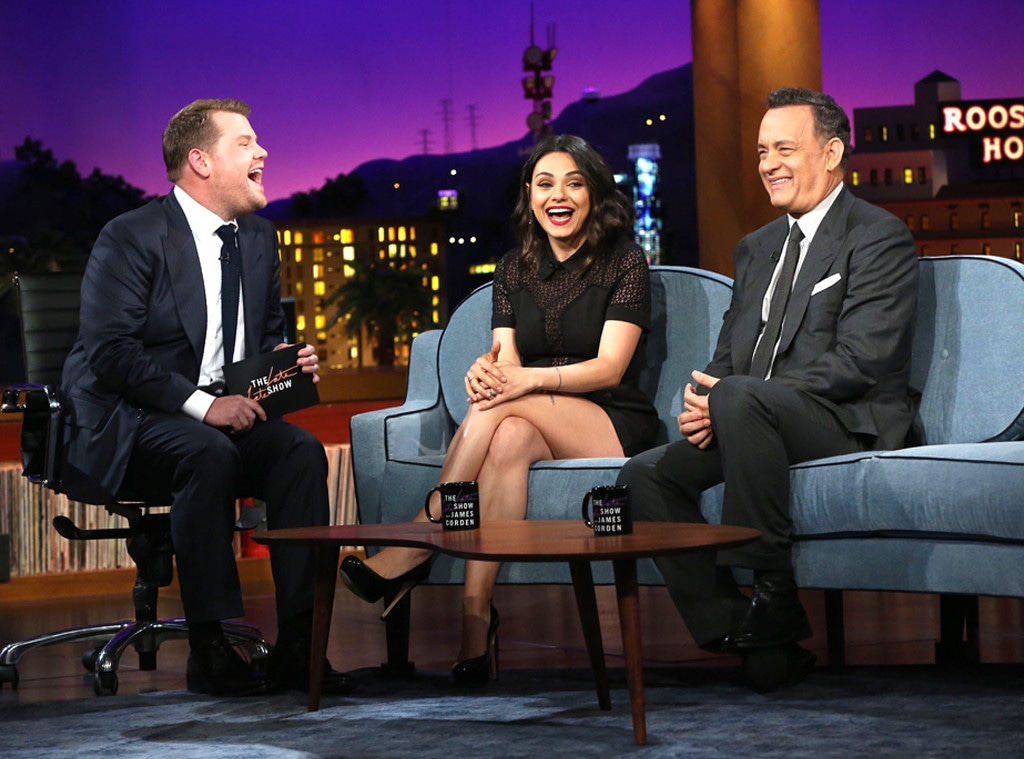 MONTY BRINTON/CBS/Landov
While we'll always miss Craig Ferguson, his robot friend Geoff Petersen, and that dancing horse, but we're already kind of in love with James Corden after just one episode.
After a quick monologue during which Corden introduced bandleader Reggie Watts and told us "However shocked you are that I am doing this job, you're not as shocked as I am," we were treated to a skit in which he was given the job via golden ticket, Willy Wonka-style, beating out other hopefuls like Simon Cowell, Lena Dunham, Eddie Redmayne, and Katie Couric who opened their candy wrappers to find nothing but chocolate. Then, Corden was treated to some talk show host training sessions by Jay Leno, Arnold Schwarzenegger, Allison Janney, and Shia Labeouf.
Guests Mila Kunis and Tom Hanks made jokes about sitting on a different side of the stage – because they drive on the opposite side of the street in England, where Corden is from – and talked babies, date nights, and whether or not Mila and Ashton Kutcher are secretly married. 
Then, things got epic, as Corden and Hanks acted out scenes from Hanks' entire film career, including Forest Gump, Big, The Polar Express, You've Got Mail, Catch Me If You Can, The Road to Perdition, Cloud Atlas, The Green Mile, Sleepless in Seattle, Larry Crowne, Castaway, The Da Vinci Code, Saving Mr. Banks, Splash, Apollo 13, Toy Story, and more.
As if that movie tribute weren't enough, Kunis and Hanks headed back to the couch to talk some more, and we learned a few tidbits including the fact that Tom Hanks does not pick scripts that involve shooting with snakes and bugs, and Mila Kunis informed us that in the Star Trek universe, the Vulcans introduced Velcro to humanity.
Corden also sang us a song thanking us for tuning into his first show, and we reflected on what a delightful time we just had as we set a series pass on our DVR's. No celebs were promoting anything (other than perhaps Mila's maternity jewelry line), there was a reference to our favorite movie Splash, and everyone looked like they were having a great time.
All in all, that was a successful premiere, and we can't wait to watch more! 
What did you think? Vote in the poll below and then head to the comments to let us know! 
The Late Late Show with James Corden