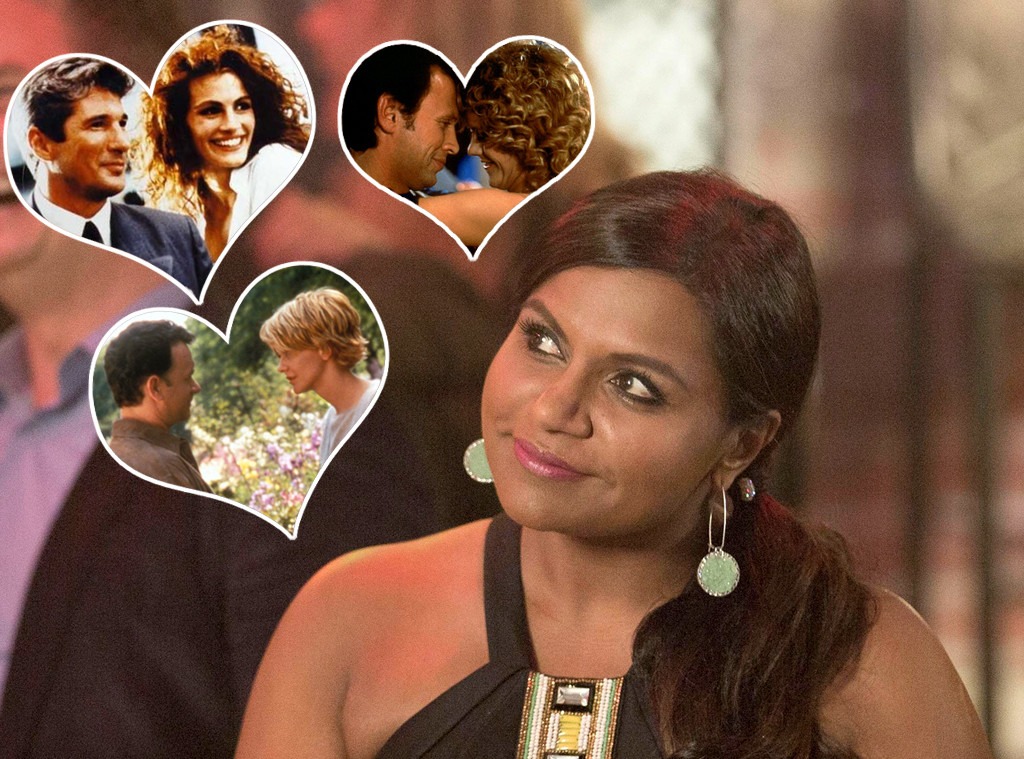 FOX
And they lived happily ever after. Maybe. But probably not. 
If there's one thing I really, really love in this dark world we live in, it's a good romantic comedy. You know the ones. They make you cry. They make you sigh. They cause a goofy, delirious smile to take over your face. Fortunately for me, Mindy Kaling loves them just as much as I do. And decided TV was majorly lacking in the rom-com department (it was), and gifted us unabashed saps with The Mindy Project in 2012, a weekly rom-com-gone-wrong, a perfect blend of love letter and satire to the genre. 
When I recently sat down with Mindy, we bonded over our shared love of You've Got Mail, quoting lines "She makes coffee nervous!") and tearing up over Kathleen talking about her mother at Christmastime. In my head, it was the first official meeting of the Rom-Com Appreciation Society, with Mindy as president and me as VP, obviously. (Judy Greer is in talks for secretary.) Our first order of business? Deciding on six iconic movie couples' current relationship status, like whether or not You've Got Mail's Joe and Kathleen are still together and if Pretty Woman's Edward and Vivian were able to make it work.
Full disclosure: I once chatted with Mindy at a TCA Press Tour party, and was actually horrified (I actually gasped) to hear she had never seen Runaway Bride (which I find superior to Pretty Woman. OK, calm down, you know it's true). I may or may not have gasped. So I decided that after she had given me 67 (including Tuesday's season finale) rom-coms, the least I could do was give her one back. Expect to hear Mindy's thoughts on whether or not Ike and Maggie are still together someday in the future. (Just kidding, they are totally still together.)
You've Got Mail's Joe Fox and Kathleen Kelly: Oh yeah. They are definitely together. Forever.
(Note: Kaling loves Nora Ephron's 1998 movie and Meg Ryan's character Kathleen Kelly so much that she pays homage to it on The Mindy Project in a big way: "The name of the bar that our characters go to is called Kathleen Kelly's. She was so stylish in that really understated hot Manhattan librarian way.")
Sleepless in Seattle's Sam and Annie: Yes. But for different reasons. In You've Got Mail, they stay together because the two of them are a little bit older and I think that they had been through these relationships that were bad…they had to get that out of the way, but that they were ready. They were going to stay together. In Sleepless, that movie is interesting because they're so pure. You know how in You've Got Mail, both of them are a little, especially Tom Hanks' character is a little competitive and he's kind of a d—k and a businessman? I kind of like that movie better than Sleepless in Seattle because in Sleepless in Seattle they're both so perfect and good-hearted. And so for him, he's a widower with the world's cutest son; she's got the heart of an angel and is so sweet...I think they wouldn't break up because they're so good. I don't recognize those characters as much as I recognize the You've Got Mail ones.
When Harry Met Sally's Harry and Sally: That's one where I bet that that couple is one where they would probably have more of a slightly volatile relationship. But again, I think that they would never actually break up. They would stick together because ultimately Harry would just get too exhausted by trying to find love that he's just, like, "I can't start over with this again." But yeah, I think they would stick together. They're more neurotic.
Pretty Woman's Edward and Vivian: There's no way. That relationship is really not…like, one Thanksgiving dinner at Richard Gere's house and that's done. That's a relationship that burns brightly but doesn't last.
Bridget Jones' Diary Bridget Jones and Mark Darcy (if the most recent book never came out and dashed all of our hopes and dreams): I love Helen Fielding as a writer, so I respect the way that she writes the characters and I want to respect her as the author of that amazing love story. My feeling with the two of them, because they're so real, the characters would've gotten married, had kids, gotten divorced and then started dating again as they got older. Like still be in love with each other and maybe even grown old together, but technically not be married. Bridget is such a handful that she would drive anybody crazy.
Clueless' Cher and Josh: Oh, I don't think that's a relationship that would stand the test of time. They're just too young. One semester at USC for her and she'd be like, "Forget it."
The Mindy Project's season finale airs Tuesday, March 24 at 9:30 p.m. on Fox.