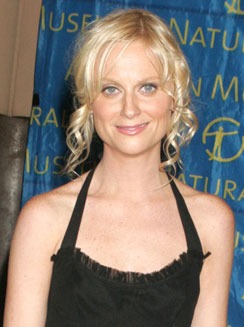 Nancy Kaszerman/ZUMAPress.com
First we get Tina Fey in prime time, and now Amy Poehler? Life is good, right?
The Paley Center for Media hosted an event for The Office writers that resulted in the opportunity to catch up with Mike Schur. In case you are unfamiliar with Mike, he's the writer-actor who plays the hilarious Mose on The Office, and he will be running Amy Poehler's new show with his Office boss Greg Daniels.
Interested in this new Amy Poehler concoction Mike and Greg are cooking up? Join the club! Mike gave me the straight story on what it is, when it's starting and what it might be called...
Kevin Parry/The Paley Center for Media
Look! The Office writing staff! They're cute. Now, here's what you need to know about that Amy Poehler show...
The Show Is a Nameless Orphan: We might have to stick with The Untitled Amy Poehler Non-Spinoff Show (TUAPNSS) for a while because the new series truly does not have a title. Mike said, "As far as I'm concerned, we should just keep calling it The Untitled Amy Poehler Project. People like Amy Poehler, right?" I asked if he could tell us where or when the story happens, and Mike said, "Beyond Thunderdome," at which point we decided Amy Poehler, Beyond Thunderdome would definitely roll off the tongue better than TUAPNSS...Own it. Love it.
Rashida Jones Is Not a Castmember: According to Mike, "The only people cast are Amy Poehler and Aziz Ansari," so despite rumors that Rashida Jones might be in it, it's just those two for now. Got any actors you'd love to see pop up in Amy Poehler, Beyond Thunderdome? Hit up the comments down yonder.
It's Really Happening! And Soon! According to Mike, "We're getting close to the point where Greg and I are going to be done with the script. We're going to shoot the pilot in mid-February, and then it will be on the air in April. It's very exciting." Mike also said that Amy Poehler is due to have her baby any minute now. Then she'll go on maternity leave over the winter and be back in time to start production in the spring. Oh, and between now and then, Aziz Ansari is heading out on tour. Show dates and tickets are posted on his website if you'd like to see him live.
Think Early Office: As far as timing goes, the first season of Amy Poehler, Beyond Thunderdome will be a tele-visual appetizer, perhaps just six to eight episodes long. Said Mike, "It will be exactly what The Office was in season one, which is almost a miniseason at the end of the year." (Except something tells me this one will get lots more attention.)
Kevin Parry/The Paley Center for Media
The Rest Is Top Secret: Greg and Mike want to keep a lid on everything else about the series. (I tried saying, "Look! Heidi Klum is standing right behind you!" so I could distract them and pull the lid off while they weren't looking, but oddly, they didn't buy it...) I asked when we might learn more about Amy Poehler, Beyond Thunderdome, and Mike said, "I'd say about an hour before it goes on the air! We're going to keep it secret as long as we can because that's a good idea in general. I'm sure that little details will leak out here and there, but for the time being we're going to keep it all under wraps."
OK, so what am I supposed to do in the meantime, watch Amy Poehler's new web series Smart Girls at the Party?
All right, fine, but only because the trailer looks awesome and made me tear up a little...