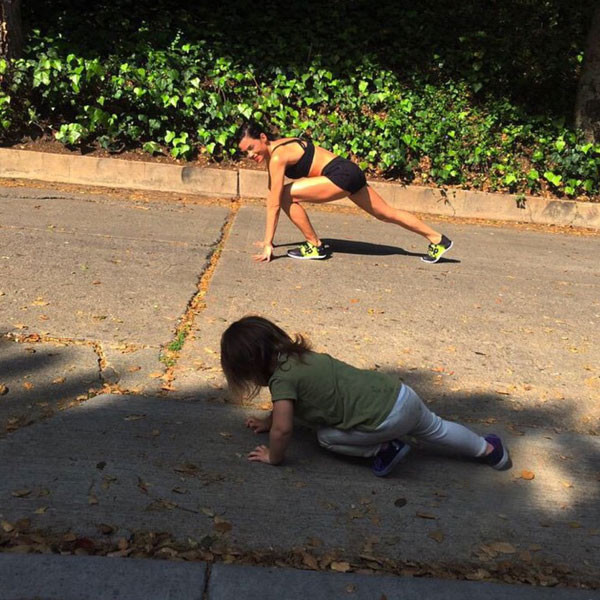 Instagram
Jenna Dewan-Tatum has always been in incredible shape, and now we know why!
Channing Tatum's wife Instagrammed a pic of herself getting ready to run up a steep hill for Reebok (only 10 times!) but if you think her motivation comes from picturing a giant milkshake when it's all said and done...you'd be wrong! Her light at the end of the sprinting tunnel is her adorable daughter, Everly!
Posed in a lunge position ready to take off, Jenna looks more than prepared to take on the steep incline, but she wouldn't be able to do it without the help of her 21-month-old, who was standing in the exact same position LOL.
"So @Reebok challenged me to #getpumped and run this hill 10x on a sat morning...buuuut I had a lil helper too," she captioned the pic.
Frazer Harrison/Getty Images
Keeping up with little Everly most definitely contributed to Dewan-Tatum's incredible post-baby body, but she also revealed that being a lifelong dancer has also helped snap her back into shape.
"I danced for 22 years of my life, hardcore, every day, seven hours a day, so I'm lucky that [my body] likes to snap back to that shape as long as I put a little effort into it, but I'm really active," she told Ocean Drive magazine.
But the 34-year-old Step Up star shouldn't be surprised by her daughter's voraciousness, as she previously told People that she already is pretty confident despite being so young!
"She's a go-against-the-grain kind of girl, which I love," she explained to the magazine. "I just want her to be a confident, happy, passionate girl who feels comfortable in her skin and is able to pursue her dreams."
Of course, Dewan-Tatum and her Magic Mike-starring hubby have already noticed that she's taking after them already when it comes to dancing. It turns out, little Everly has already picked out some of her favorite songs to jam to with or without her parents!
"She's obsessed with Sia's 'Chandelier' and Taylor Swift's 'Shake It Off,'" Dewan-Tatum dished. "She knows the dances. She's learned off the videos."