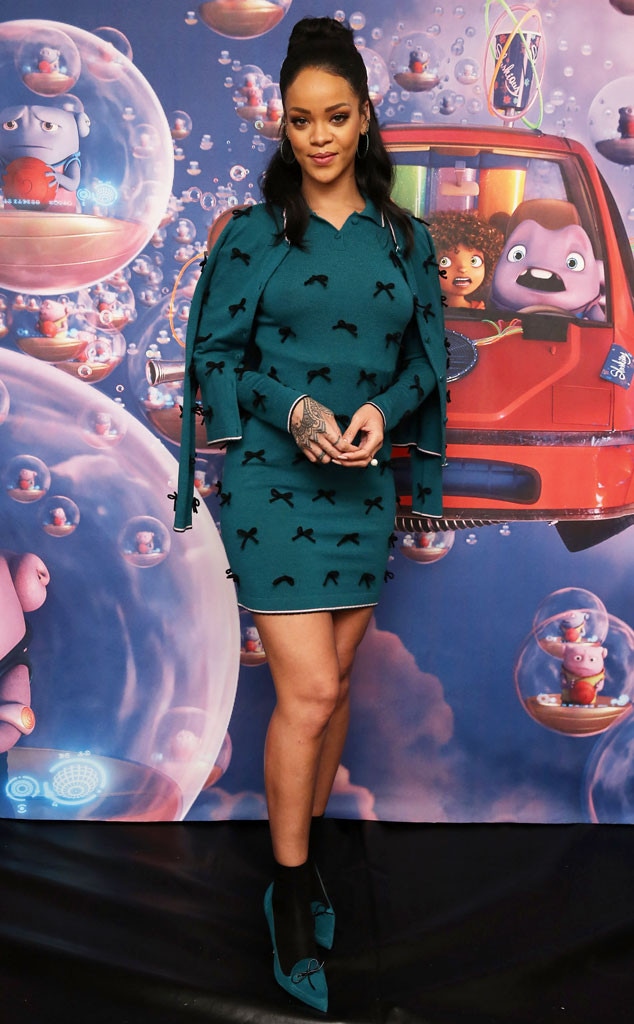 Neilson Barnard/Getty Images
Rihanna doesn't actually have to say it to say it.
The actress continued doing junket interviews for her upcoming animated feature film Home (which hits theaters next Friday) alongside co-stars Jim Parsons and Steve Martin, and during their sit-down with Time magazine the trio was asked what animated movies were their favorites growing up.
Martin revealed he was a big Peter Pan fan, both because he could fly and because he had a thing for Wendy (LOL!), and then RiRi answered—but her response was especially interesting because it also seemed to give a subtle dig at her infamous relationship with singer Chris Brown.
"I fell in love with the Beast," she said with a laugh, clearly referencing the 1991 Disney classic Beauty and the Beast, but then she continued, "Pretty much my dating record so far." Oh snap!
Of course, Parsons, aka Huge Rihanna Fan, chimed in and hilariously said, "Let's go there, shall we?" (They didn't go there.)
The Barbados beauty obviously didn't name any names, but there is really only one guy that pops to mind when thinking of her romantic history, and it's no secret that their on-again, off-again five-year relationship was pretty volatile.
Rihanna has been recently linked to Leonardo DiCaprio, and while the duo have never confirmed that there's anything going on, Breezy came across the reports and couldn't help but give his blessing.
"I respect her enough to respect her privacy and her space, because I can't believe everything I hear in the news. But what I see, I'll be like, 'OK cool, there might be something else going on,'" he said during a Hot 97 radio interview recently.
"I'm gonna have to give her that, because you know what? Ain't nowhere else you coulda went though. High five," he added. "You can only go up, and that's the upper, upper echelon... I'm not even a hater. I'll give you a slap on the back, booty, everything, 'Hey, do your thing. Good game.'
"In that situation, I just tip my hat. I'm not a hater. I'm not envious, I don't feel jealous. Do your thing. I can't have it all, brotha."