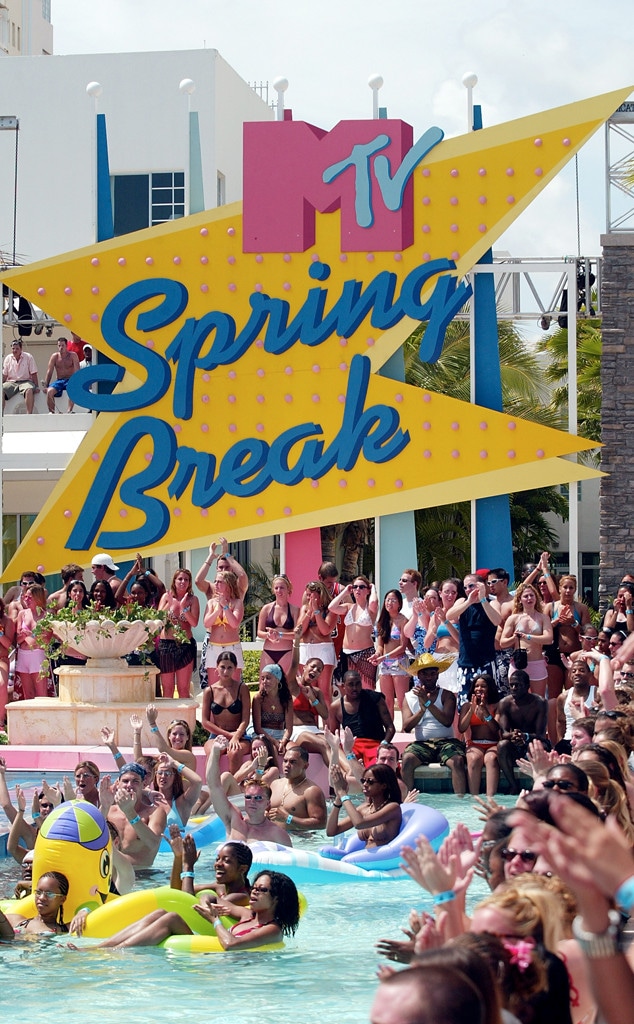 Scott Gries/Getty Images
MTV Spring Break will forever be a shining beacon of hope for kids of the 90's and 2000s. Even though the special has been around since the late '80s, it didn't really reach maximum potential until around 1996. Then things got magical.
From Lindsay Lohan in tinted sunglasses to the girl group Dream, there simply will never be a more perfect symbol of pop culture in the late '90s and early 2000s than MTV Spring Break. And we have proof, duh:
1. 'N SYNC and Britney Spears talked about their favorite spring break videos in 1999, and Justin Timberlake picked his girlfriend's video for "Baby…One More Time." Awww! Memories.
2. Remember when they tried to make From Justin to Kelly a thing? Thankfully, Queen Kelly was able to get past that career ruiner and rise to the top.
Frank Micelotta/Getty Images
3. Destiny's Denim in the water!
Ethan Miller/Getty Images
4. This photo also serves as a reminder that Gwen Stefani is an ageless vampire because she looks the exact same in 2015.
5. Eminem walked onstage to perform "My Name Is" with his pants around his ankles because of course he did.
6. "He Loves U Not" belongs in a museum so people can remember the cultural significance of Dream's contribution to society forever.
7. Carmen Electra was known as the "queen of spring break," and one look at this photo shows exactly why she has that title.
8. Behold! One of the most iconic MTV Spring Break moments of all time: Biggie Smalls performs "Big Poppa" in 1995.
9. Paris Hilton being carried in by a bunch of shirtless dudes wearing puka shells? Must be the 2000s.
Frank Micelotta/Getty Images
10. Why doesn't anyone color their head silver anymore? Sisqo, you were a true pioneer.
11. Destiny's Child's (the old version) performed "Bugaboo," which happens to have the most '90s lyrics of all time: "You make me wanna throw my pager out the window/ tell MCI to cut the phone pole."
12. Fat Joe (in a towel) and Ashanti performed the only song that mattered in 2002.
13. Mandy Moore wore stacked bracelets and filmed the depravity using this Sony camera.
14. Look at Sofia Vergara before she was the Sofia Vergara and engaged to Joe Manganiello!
15. Jack and Kelly Osbourne begrudgingly made an appearance at the spring break festivities.
16. Jessica Simpson wore gaucho pants, you guys.
17. In case you ever wanted to remember the time when Lindsay Lohan was carefree and wore tinted sunglasses.
18. Vanessa "Pre-Lachey" Minnillo fulfilled her VJ duties while rocking khaki shorts.
19. Drew Barrymore and Jimmy Fallon hit up Cancun to...commentate? How many ways can someone say, "There's a dude bro grinding with a girl in a bikini"?
Lawrence Lucier/FilmMagic
20. Paris Hilton looking bored and staring at her Razr phone is the most 2000s sentence we ever typed.
21. 'N Sync used to tear up so many hearts during the golden MTV years.
22. And finally, a photo that makes us wonder what Tila Tequila has been up to for like three seconds before we watch that 'N Sync performance again.
MTV SPRING BREAK 4-EVA!