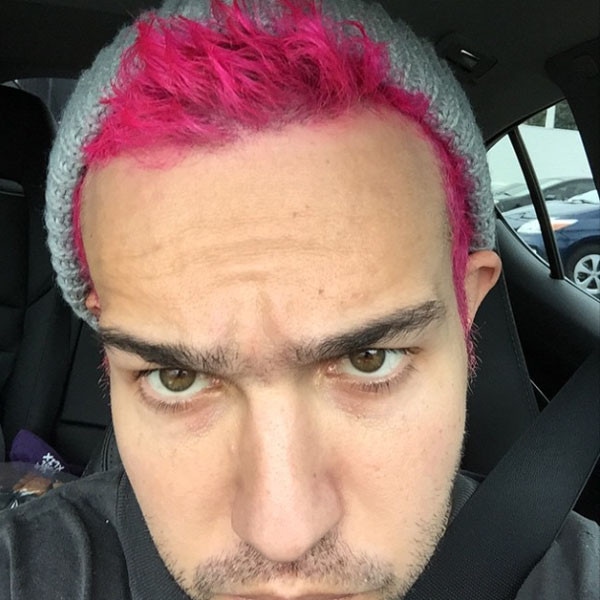 Instagram
What made Pete Wentz think pink?
The Fall Out Boy bassist and lyricist debuted a new hair color via Instagram Wednesday. "Shooting a video today #cherryblossumhair," Wentz wrote in the caption, without offering further explanation. In another Instagram caption, the 35-year-old rocker thanked Mèche Salon Beverly Hills colorist Michelle Pugh for dyeing his platinum tresses hot pink, writing, "You're a cherry blossom. @michpugh for the hook up."
Pugh regrammed one of Wentz's pictures and called him "probably my favorite pink client, ever." To create Wentz's bold new look, said she "custom blended three different tones" using La Riché hair dye.
Wentz didn't reveal which video he was shooting Wednesday afternoon, but it's likely for the next single from Fall Out Boy's American Beauty/American Psycho. The band released its 11-track album in January, and it debuted at No. 1. The album features the smash hits "Centuries," "American Beauty/American Psycho," "Uma Thurman" and "Irresistible." Wentz, along with drummer Andy Hurley, lead vocalist Patrick Stump and guitarist Joe Trohman, will support the album with a worldwide tour starting June 10 in Camden, N.J. The Boys of Zummer concert series, with co-headliner Wiz Kahlifa, wraps Aug. 10 in L.A.
The band is quite proud of American Beauty/American Psycho, and according to Wentz, the album put the group in a different stratosphere. "We're the last rock band that doesn't feel like pop is a four letter word. We like rock and pop, and we're not ashamed of that. We're on an island, and I feel like nobody wants to join us...A few bands have this gold-executive-platinum status, and they can do whatever they want. They don't even need to put out music. Everyone else needs to interact with the pop culture, which means being able to react to things quickly. DJs and rappers can do that since they don't have to get a whole band together and everything. We wanted to make a record that demonstrates that you can light the wick right away and get it out the door before the dynamite goes off," Wentz told Rolling Stone.
Some musicians are focused on singles, but Fall Out Boy still sees albums as an art form. "It's really short-sighted of people to say, 'The album is dead.' That's just looking at a blank canvas and not seeing a painting there, not knowing what you can put there. Yeah, we live in a singles-driven world, but records still matter to me," Stump, 30, told the magazine. "I put a ton of thought into this new record, making sure it was an experience where the running order matters and the keys and tempo and everything."
"It all matters to me because records still matter to me," Stump added.