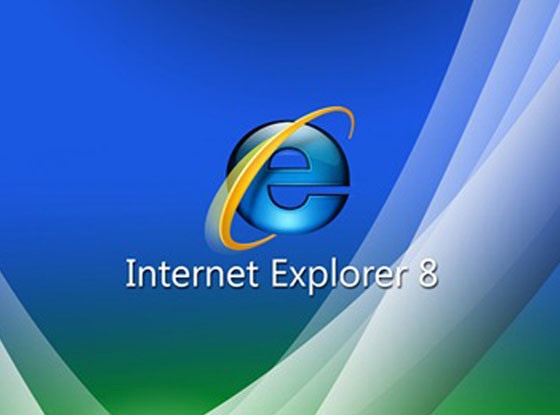 Well, guys. You did it. You finally did it. You mocked an Internet browser so ruthlessly and relentlessly over the years that Microsoft is actually getting rid of it.
Good job, gang! And R.I.P. to Internet Explorer, a program that existed solely to allow Internet users everywhere to download a different browser.
While speaking at Microsoft Convergence on Monday, Microsoft's marketing chief Chris Capossela confirmed that they are phasing out Internet Explorer and are instead developing a new browser they are currently calling "Project Spartan."
IE will still exist in some version of Windows 10, but basically, this is the end for the browser the world loved to hate. So it's only fitting that the Internet said goodbye to the program by mocking it for old time's sake:
When I hear Microsoft is getting rid of Internet Explorer.. - pic.twitter.com/NZ4eV6C4Nb

— 9GAG Gifs (@9GAGGifs) March 18, 2015
It only took Microsoft A HUNDRED YEARS TO REALIZE THAT INTERNET EXPLORER IS USELESS

— Laura (@lauragulshani) March 18, 2015
@HigginsDav @cafferkey_sean @jeff_johnston_ @EndaKennyTD you could apply most internet explorer meme jokes to bing pic.twitter.com/Iy5B5vKUUY

— Noel Rock (@NoelRock) March 15, 2015
just opened internet explorer by accident on my computer and got sent back to 1999

— edgar allan woe (@bucketsdntlie) March 17, 2015
Internet Explorer be like. pic.twitter.com/CeXntaOLW1

— Funny Quotes (@FunnyQuotees) March 18, 2015
The departure of Internet Explorer is the saddest thing to happen to cookies since Lucius Lyon hooked up with Anika.

— Abbi Crutchfield (@curlycomedy) March 18, 2015
This morning Internet Explorer awoke in a mass e-grave, right next to MySpace and Friendster.

— John Fugelsang (@JohnFugelsang) March 18, 2015
Microsoft is ditching Internet Explorer? But then how will I download Chrome?

— Ian Molnar (@imolnar) March 18, 2015
When you accidentally click on Internet Explorer pic.twitter.com/0xM2394u72

— Shumail (@Shumyl) March 14, 2015
Too funny! Techie joke! #InternetExplorer #lol pic.twitter.com/bzPGSfgwG8

— Rich Singh (@rsinghphoto) January 31, 2014
Part of me is going to miss Internet Explorer. The other part of me crashed due to an error and now won't operate correctly.

— andrew humme (@makeithumme) March 18, 2015
i guess internet explorer finished exploring all of the internet

— lauren ashley bishop (@sbellelauren) March 18, 2015
They're getting rid of Internet Explorer so it's a pretty sad day for Dads everywhere

— Eliza Bayne (@ElizaBayne) March 18, 2015
If Internet Explorer is brave enough to ask you to be your default browser, you're brave enough to ask that girl out pic.twitter.com/tCzXHj4N4Z

— Mario Fusco (@mariofusco) March 4, 2015
Microsoft is killing off Internet Explorer. RIP, Internet Explorer, I thought you died ten years ago. pic.twitter.com/LeahQ17t3D

— Jason Stein (@jasonwstein) March 17, 2015
#Humor #Scrubs #InternetExplorer pic.twitter.com/AQMpnMPoGi

— GData Venezuela (@GData_Venezuela) February 6, 2015
Internet Explorer stop making a big deal about quitting you were already fired.

— Bez (@Bez) March 18, 2015
Updated my pc and Internet Explorer had the audacity to ask me if I wanted to make it my default browser. pic.twitter.com/HYxxu5L6BF

— VeteraN (@FeaRVeterN) March 12, 2015
My new background. Google Chrome's hatred for Internet Explorer is unparalleled. pic.twitter.com/oKUvXCEty9

— An0nym0use (@An0nym0useArt) March 12, 2015
I finally made the jump to Internet Explorer last week after someone suggested it was better than Netscape. So yes, I'm a little frustrated.

— Jeff Dwoskin (@bigmacher) March 18, 2015
Microsoft Is shutting down #InternetExplorer - of course since it is internet explorer, they'll be waiting a while for it to shut down.

— Mark Critch (@markcritch) March 18, 2015
we'll miss you, internet explorer. A tribute: pic.twitter.com/j3tQIADwGb

— Karen Geier (@karengeier) March 18, 2015
Internet Explorer may be dead but its memories will live on forever in our viruses.

— Warren Holstein (@WarrenHolstein) March 18, 2015
Fare thee well, Internet Explorer. You were such an easy target for so long, but now you must head to the Internet graveyard where you will be buried next to LiveJournal, Kazaa and the old AIM away messages that held late-90s song lyrics so we could adequately express our deepest emotions.