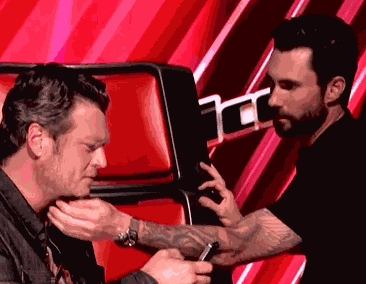 YouTube
Happy Birthday, Adam Levine!
The Voice judge is turning 36-years-old today. Though he has many impressive credits to his name, including: Maroon 5 frontman, PEOPLE's 2013 Sexiest Man Alive, and hubby to the stunning Behati Prinsloo... our favorite among them may be BFF to Blake Shelton.
They joke, they compete, but then they hug it out, like adorable besties do.
To celebrate Adam's birthday, here are his most hilarious bromance moments with Blake on The Voice. Never change, Shevine!
1. We love when Blake lets Adam sit on his lap, like a proud papa.
2. Or how Adam tenderly kisses Blake's head to show him they are just fine.
3. There are those moments when things heat up a little between the two.
4. And the times when they can't resist sharing a sweet embrace.
5. If Adam has to bust a move, he puts his best on display for his bestie.
6. And sometimes Blake forces a kiss on Adam like a grandparent at a family reunion.
7. There are times when Adam uses Blake as a chair (that happens a lot.)
8. And claps like a kid on Christmas morning.
9. Adam likes to check in with Blake while showing off his core strength.
10. And other times he has to remind Blake that all that teasing is just for fun.
11. Even if it involves a little cursing.
12. No worries, though, Blake can take it!
13. There are times when the besties aren't afraid to be sincere.
14. And they'll move in for a fairytail-level smooch.
15. Because they are just the sweetest.
16. And we envy their friend PDA.
17. Because they are one of the greatest friendship love stories of our time.
Happy Birthday, Adam! We're wishing you (and Blake) all the best!