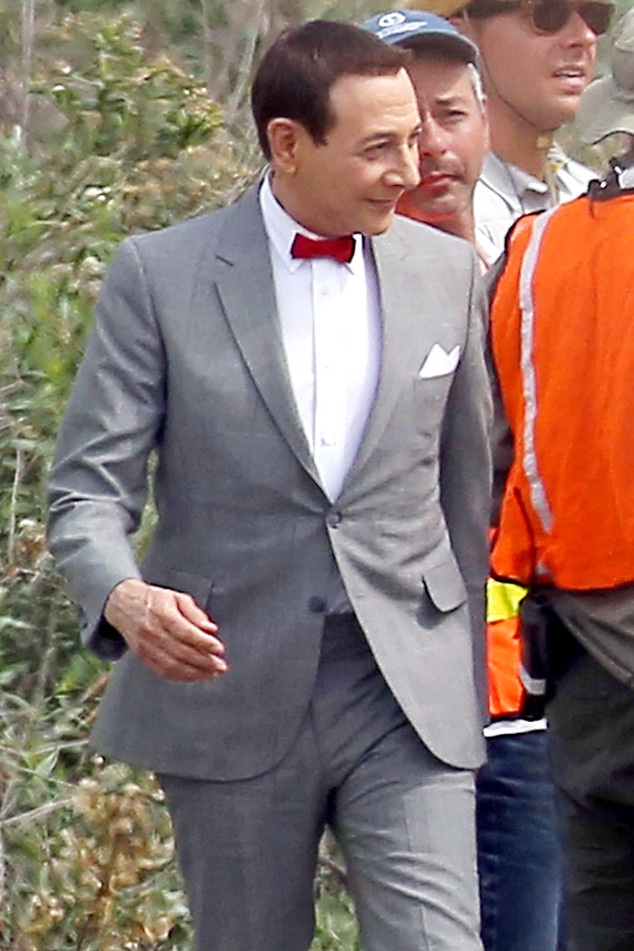 Juan Sharma/Bruja/PacificCoastNews
Is anyone else practicing their best Pee-Wee Herman expression?
Actor Paul Reubens has reprised his famous character for an upcoming Netflix movie titled—wait for it—Pee-Wee's Big Holiday. Reubens was photographed in his signature grey tux and red bowtie in Los Angeles while being joined onset by a female co-star to film scenes for the Judd Apatow-produced comeback film.
The 62-year-old actor and Apatow announced in February that they made a deal to make and distribute an entirely new film about the lovable character. This will be the character's first feature film in more than two and a half decades!
"It's a road-trip movie across the country. It's very similar in style and tone to Pee-wee's Big Adventure. But it's not about a bicycle," Reubens told Entertainment Weekly of the film's plot. "I never really thought of Big Adventure as a family movie, but I didn't try to make an adult movie or a kid movie. We wanted to make something that appealed to a wide age range, and I think that's the case with this movie also."
He later added, "It's been really really gratifying and exciting, and it's kept me going. The kid's show went back on the air on Netflix right before Christmas. I did not realize the show being on Netflix would be like being back on television. Every day I get hundreds of notes from people on Facebook and Twitter, all over the place, 'My 3-year-old, my 4-year-old...' and that's super exciting to think that kids are going to see it now who didn't know about it before."

Are you excited for Pee-Wee's return?!