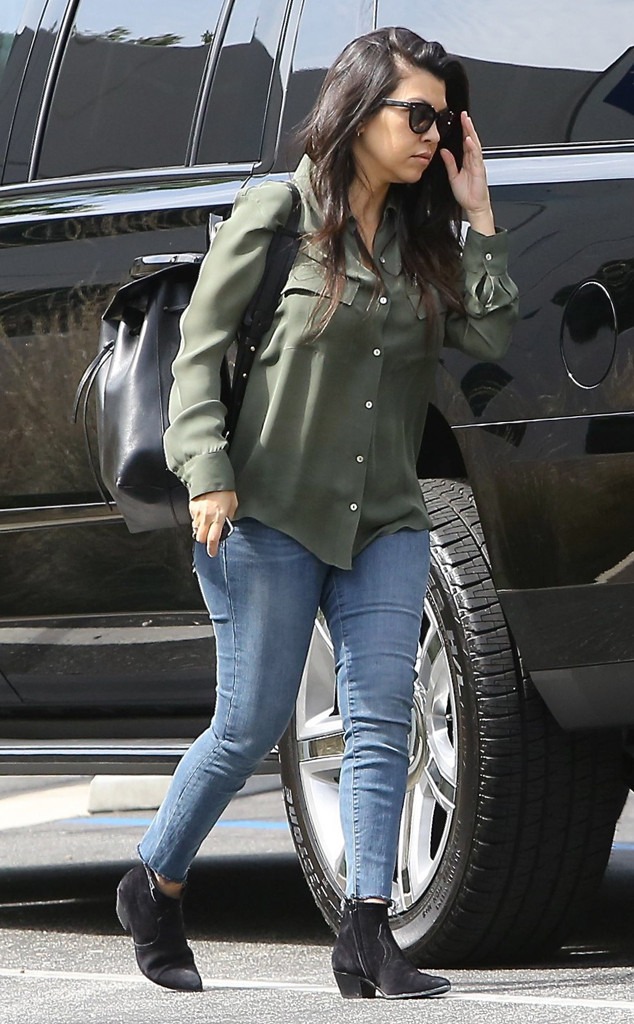 Jack-KMM-RS-Maciel/X17online.com
Kourtney Kardashian is getting on with her life as Scott Disick receives treatment in Costa Rica.
One day after E! News reported that Scott had checked into a rehab facility for substance abuse-related health issues, the mother of three stepped out in Beverly Hills Tuesday with their three kids, Mason, Penelope and baby Reign.
The 35-year-old Keeping Up With the Kardashians star seemed to be in OK spirits while running errands with her fam and an assistant. Kourt looked fab in blue jeans, black heels and a green top (for St. Patrick's Day, of course!) with black sunglasses. As for Mason and Penelope, the tots looked absolutely adorable and Kourt pushed infant son Reign in a stroller.
Earlier in the day, Kourtney took to Instagram to wish little brother Rob Kardashian happy birthday. "Happy happy birthday to one of my best friends in the entire world who makes me laugh like no one else," she wrote. "Roberto, you have a heart of gold and a sweetness that is infectious. You are one of a kind. Happy birthday Rob Dawgy Dizzle."
Yesterday, E! News confirmed that Scott checked into the Rythmia Life Advancement Center in Costa Rica. "He's been there recently once before and he liked it. He's going back for a short stint and will probably go back again soon," a source told us. "It's part of a regular program. He believes in it. He doesn't have to be dragged there or anything. This is his thing and really wants to do it. He's working on his issues."
Scott also said in a statement, "I realize my issues are bigger than me and I'm ready to truly remedy this struggle I continue to battle. While I have been unconvinced in the past of treatment and therapy methods, Rythmia's rehab approach puts my worries at ease. The fact that there is a money back guarantee that has never been called upon gives me even more confidence. I am looking forward to starting my therapy and iboga treatment there."