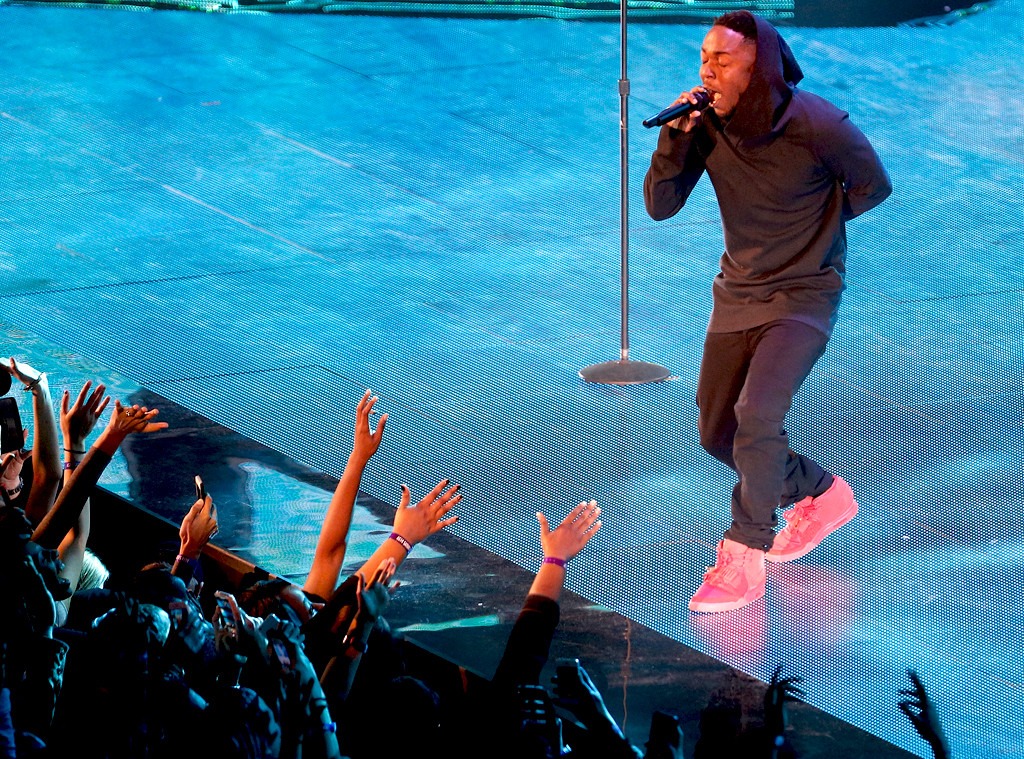 AP Photo/Bill Haber
It's a Monday morning treat! A full week ahead of its scheduled release date, Kendrick Lamar's newest album dropped. To Pimp a Butterfly showed up on iTunes and Spotify with barely a word of warning.
The rapper, who normally is somewhat social media shy, did Tweet out what was rumored to be the upcoming album's track list back on March 6. Then, late last night, he sent out a fairly cryptic text followed by the link to the album's iTune's page.
Even though it's only been a week since To Pimp a Butterfly was announced, fans were previously treated to the releases of two songs: the lead single "I," and the darker and more introspective "The Blacker the Berry." The full album tackles the issues of fame and self-worth that Lamar has been open about in the past, and also explores his conflicted feelings about his upbringing in Compton, California, and the life of wealth and fame he's confronted with now. Success has been anything but easy for the rapper, and he's completely open and honest about it in To Pimp a Butterfly's verses. 
As exciting as the surprise album drop was, the move wasn't all that surprising in and of itself. In fact, it's starting to look like the day of the traditional release is completely over. Beyoncé changed the game with her self-titled visual album that popped up in December 2013. She wasn't the first to do it, of course (Frank Ocean and Radiohead started the trend before her), but being Beyoncé, she made the most waves. Not wanting to be left out, Skrillex and D'Angelo followed suit with Recess and Black Messiah respectively.
Then, last month, Drake tweeted out the link to his mixtape If Youre Reading This Its Too Late, an album that was a complete surprise to his fans. Some Drake conspiracy theorists believed that the rapper dropped the album as a way to get out of his recording contract with Cash Money Records, and that could be a sign of the bigger release trend. In an era when artists feel like they're losing control or authenticity to record labels, doing a surprise release could be a way to take back the decision-making process. Or, the new trend could be a way to spice things up in the music world and get listeners in buying albums again.
Kendrick Lamar's album wasn't a surprise on the level of Drake or Beyoncé since he had been open about the fact that To Pimp a Butterfly was coming, but he did set up the curveball by publicizing a fake release date. 
So, with this, we'll light a candle and say some kind words in honor of the long lost release date.