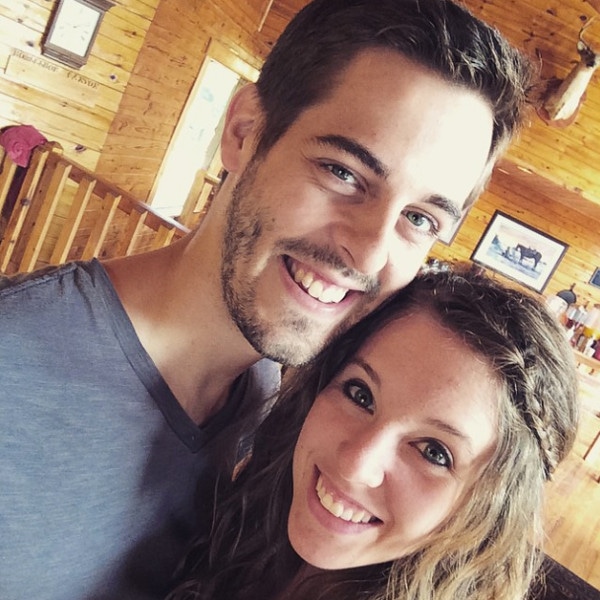 Instagram
The Duggars have expanded yet again!
Jill Duggar and husband Derick Dillard welcomed their first child yesterday, making one of TLC's most famous families even bigger.
The couple's newborn is a boy, and yes, the baby's name was very much inspired by their faith. Meet Israel David Dillard! E! News confirms that little Israel, who is weeks past his due date, weighed in at 9 pounds, 10 ounces.
Prior to Jill's birth, Derick announced that she was in the beginning stages of labor last week with a blog post writing, "I can't even describe right now the anticipation I am feeling, as I am about to get to meet my firstborn son for the first time face to face. So many people have already testified that nothing can quite describe that moment and that I'll just have to experience it for myself. When I look around, I can see new life everywhere. The trees are budding, which means summer is near. My wife, Jill, is beginning to have contractions which means that the birth of our son is near."
The couple has always been open about wanting to welcome their baby boy at home. In fact, the twosome took Bradley [Method] birth classes months before the big due date.
"It's husband-coached childbirth so that he can know how to help me in labor and in pregnancy—and that's what I want the most," she explained to E! News. "[I want] him to be able to know what to do when that comes." 
The pair, who announced their pregnancy publicly just two months after saying "I Do," has kept fans consistently updated on their journey to parenthood.
Whether posting baby bump pictures on Instagram or sharing details on their multiple baby showers—one was even at the Olive Garden!—the couple has remained focused on faith and family throughout the ride.
"I'm thanking God for this little life and the good signs," Jill told ABC News during her initial months of pregnancy. "I've been having a lot of morning sickness…[but] it's well worth it." 
Luckily, a supportive husband and a few tasty pregnancy cravings (dill pickles anyone?) helped the 23-year-old stay positive during the tough times.
In fact, even as they get used to having a newborn around the home, both Jill and Derick are already thinking of expanding their family once again.
"We're open to as many children as God will give us," Jill dished. "We believe children are a blessing from the Lord and a gift from him."
Congratulations to the happy couple on their newest addition!