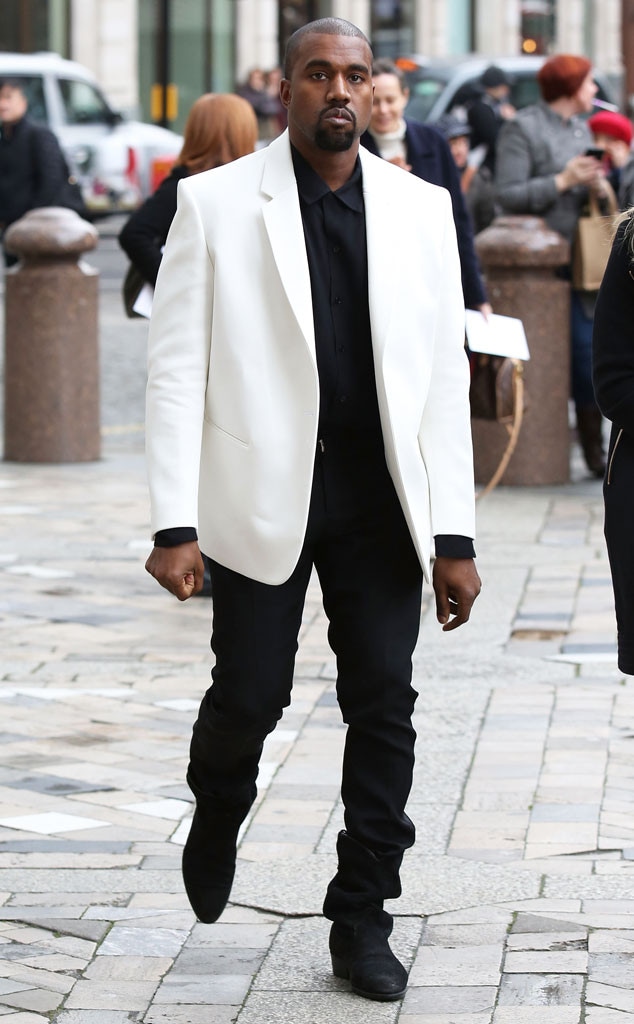 Tim P. Whitby/Getty Images
"I don't want to sell anything that I'm not extremely knowledgeable about…I just don't rush products based off my name. The product has to be something that I can stand behind," he says. "The product has to be a contribution to society." 
During his chat with Clique TV, West also discusses fashion elitism and the expensive designer products society often strives to buy. "When I was young, I was really scared to walk into luxury stores, too. It's very non-inviting and it's very expensive," he admits. "Like, f--k if you're not knowledgeable you can make a very expensive mistake—an extremely, like, it's bordering on getting a prostitute pregnant or something like that."
"An expensive mistake like that when you buy a jacket," he adds with a laugh while flashing a rare smile. 
West, who revealed earlier in the interview that he's being awarded with an honorary doctorate in May, stressed the importance of education as well as proper proportions. 
Pascal Le Segretain/Getty Images
"Education is the power. I think in schools, moving forward, beauty needs to be understood…of course we can learn about Picasso but we also need to learn about proportions," he says. "Proportions are the luxury…proportions are so important that in ancient times they would hide information of proportion and now it's happening again. If you picture a Gucci jacket right now—just a guy's Gucci jacket, it doesn't have proper proportions in my opinion." 
While West  says his transition to fashion was a "great wall to break down," he also points to his fame as a useful tool and is grateful for his influence over society. 
"Nope, not anymore," he says when asked if he ever gets tired of being a celebrity. "I'm very happy to be famous. It's a tool that you can use to message as you want to take the power into your own hands. As far as my narrative, they can write whatever they want to write…I don't care about what anyone in fashion has a say about what I want to do. I'm here in fashion to learn sensibility…I want to create something comparable to what Walt Disney did and then mix it with what Henry Ford did and mix it with what Howard Hughes did." 
At the end of the chat, West gets a chance to show his humble side when A.P.C. founder Jean Touitou joins him for the interview. The rapper previously collaborated on a collection with the company and has nothing but praise to share for the brand's creative director. 
Asked if the two plan to work together again, West beams a giant smile and says, "I always ask him." 
But the most enduring part of the lengthy chat occurs when West tries to pronounce a notable Paris street name and proceeds to call himself "a stupid American." 
Perhaps he is human after all?