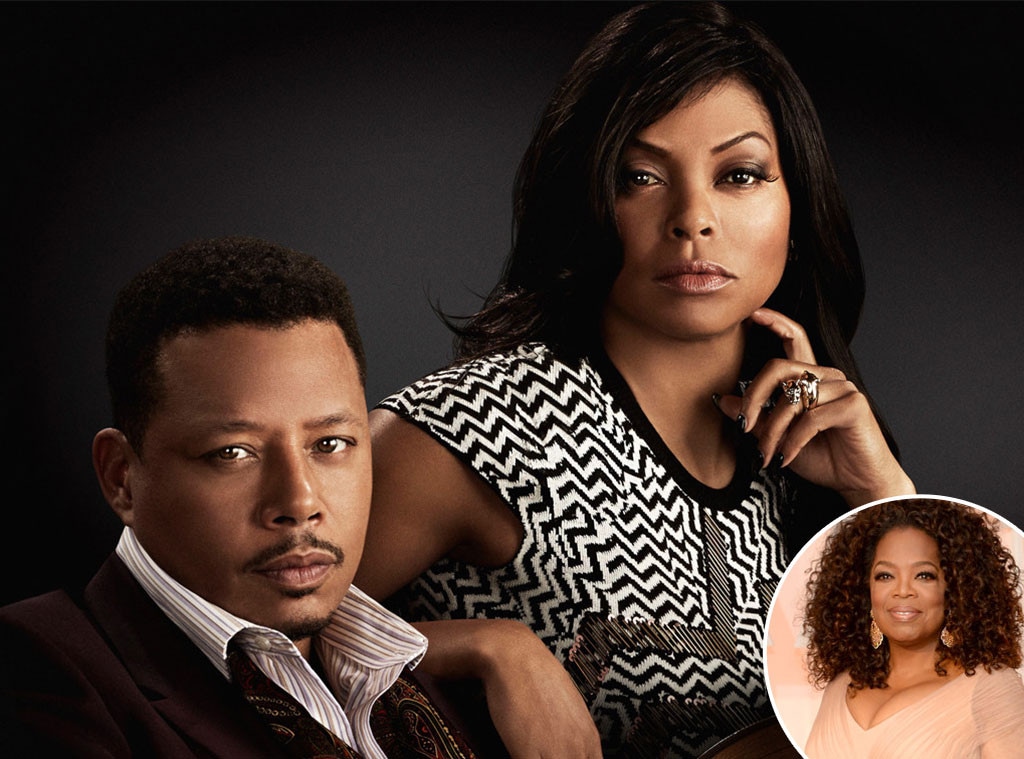 Chuck Hodes/FOX
To quote Liz Lemon: Oprah is coming! Empire co-creator Lee Daniels has made it no secret he wants Oprah Winfrey for the second season of his wildly successful Fox series.
"He's relentless," co-creator Danny Strong told E! News' Jesse Giddings. "I'm starting to feel bad for Oprah. I just want to be like, 'It's OK, you can say no.'"
But she probably won't! At Empire's Television Academy panel Daniels (basically) confirmed she's coming. While on the red carpet, Taraji P. Henson said she wants Denzel Washington and Oprah for the new season.
Watch:
Are Oprah and Denzel Really Joining "Empire" Cast?
"That's what she wants and Cookie gets what Cookie wants," Daniels said. "She told me who to cast and I just go, 'OK, yes, ma'am!'"
How's he going to get Oprah? "I'm going to punch her in the stomach, grab her by her hair," Daniels joked. "I think she's going to show up."
Oprah!
But what will Oprah do on the show? That's still up for debate. The cast, including Jussie Smollett and Bryshere Gray, dished on who they'd want the former daytime host and Oscar nominee to play from Cookie's mom to a therapist to herself. Whatever the role, we're very down to see Oprah mix it up with Henson's Cookie Lyon.
"Who could Oprah play? Let's crack this right now," Strong told us. "Cookie's mom, Cookie's aunt…Cookie's old business partner maybe? Oprah's a genius actress, she can go anything."
Smollett teased Oprah could come play herself or "the one that makes Jamal turn into a hetero! No, I'm kidding!" "Maybe Oprah could come on and play herself," he told E! News. "Maybe she needs to do a big ol' Oprah's Next Chapter with the Lyon family or something like that!"
However, does Oprah already have a place in the Empire universe? She can be seen in a picture in Lucious Lyon's (Terrence Howard) office (above). The plot thickens!
As for Denzel Washington, well executive producer Brian Grazer said he wants him in an American Gangster type of role. "I made two movies with Denzel and Lee of course knows him well and again, we just hope that he does it," Grazer said. "I think he thinks the chemistry of the show is cool, he loved the pilot, he's been a fan of the show from the very beginning, actually before the beginning."
Whoever Oprah and Washington play, we're sure we'll be riveted by it.
"Next season we're going to surprise you even more with some of the guest stars," Daniels said. "It's great because now we want to know that people want to watch us and that's a great place to be. My friends now feel great coming on the show, so it's really exciting."
Stay tuned for video from the event!
Empire's two-hour season finale airs Wednesday, March 18 at 8 p.m. on Fox.