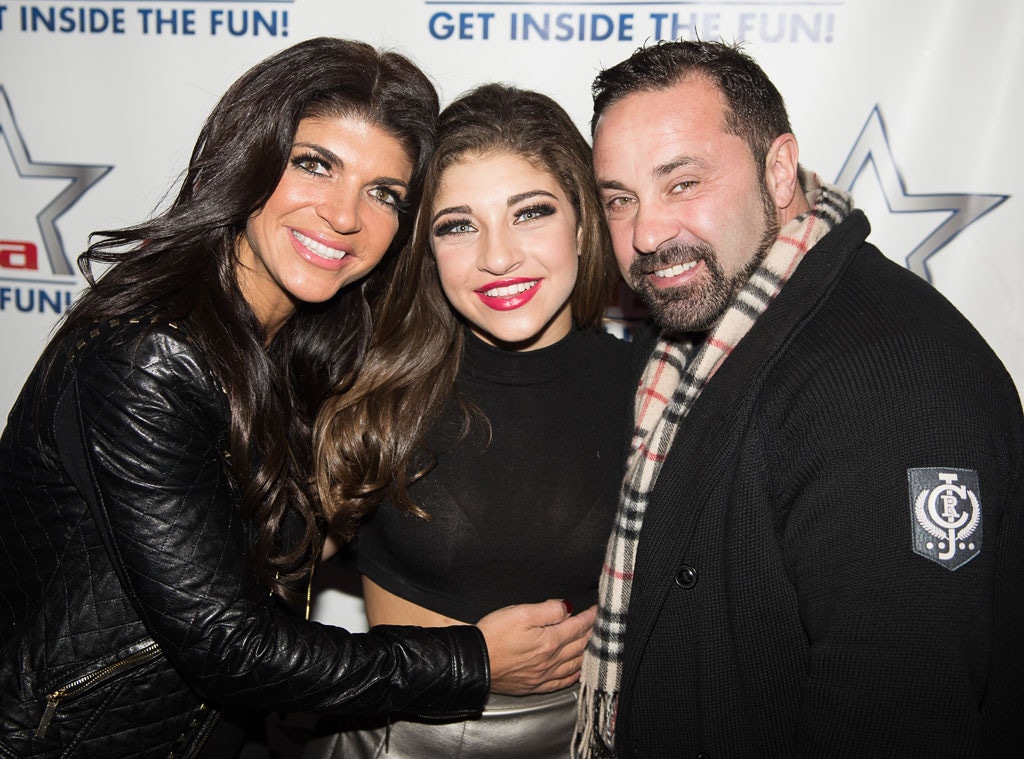 Dave Kotinsky/Getty Images
Even in prison Teresa Giudice can't escape the wild rumors surrounding her family, but now her daughter, Gia Giudice, is coming to her mother's defense, slamming the hearsay.
After In Touch claimed that her husband, Joe Giudice, allegedly had an extra-marital affair with a woman named Jamie Jackson just weeks before his wife turned herself in, an insider told E! News, "100 percent, nothing happened, nothing" between the two.
"Joe was in Atlantic City for a meeting about getting a wine that he's involved with into one of the casinos. He was also there to discuss a potential appearance with Teresa for later that month before she surrendered," the source dished.
The woman in question, it turns out, was hired as a model by the wine company to do promotional work. As for the photo of only Joe and Jamie? It was a "business meeting that turned into a lunch" where they were joined by other people.
Gia apparently finds the whole situation laughable, as she turned to Twitter to slam the reports, Gia tweeted, "honestly hilarious how people go out of their way to make my family looks bad.. #nicetryppl."
But it looks like the drama surrounding her family is finally taking its toll because the next day she posted, "I need a break from all this.. a new beginning."
Joe gave a statement to Us Weekly, also shooting down the allegations, saying ,"I did not flirt with her. I did not make out with her, nothing happened between us. Everything In Touch is saying that happened between us are lies."
Jamie also spoke to the magazine, further negating the reports. She said, "I definitely never slept with him...Nothing happened with me and Joe… nothing inappropriate happened at any time. We did not hook up, kiss, or anything more. I saw him at the two business meals and nothing more, it's all made up bulls--t."
Although her family is going through a tough time, the Giudice family has been putting up a strong front, with Joe really stepping up to be there for his children, according to Melissa Gorga. She told Andy Cohen, "He's manning up and doing what he has to do. I see him drive the girls every morning."