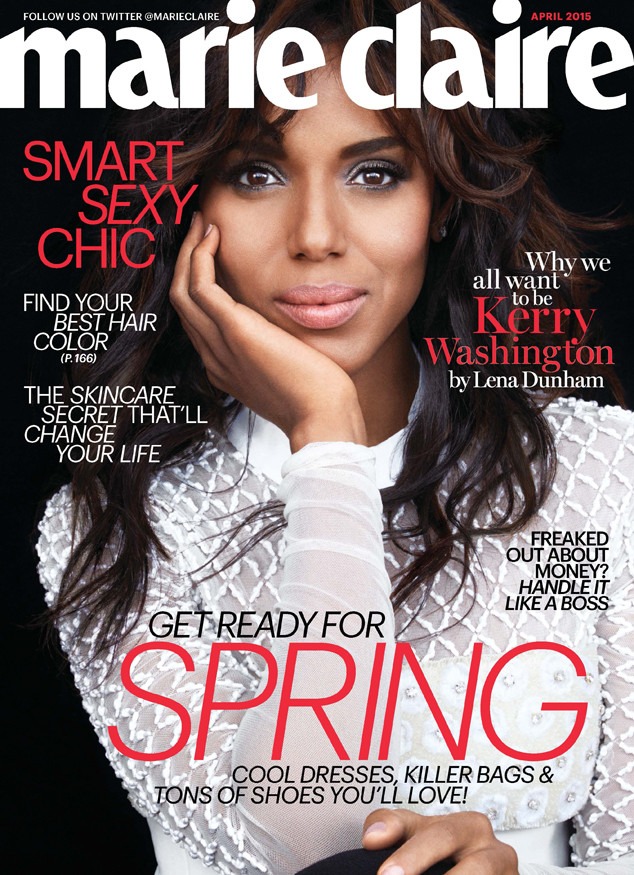 Tesh/Marie Claire
We're willing to bet that almost everyone thinks Kerry Washington is absolutely beautiful (because she is), but to our surprise, the actress admits she didn't always think she was much of a looker.
Chatting with Lena Dunham for a special interview in Marie Claire's April issue, the cover star confesses, "I didn't grow up thinking I was pretty; there was always a prettier girl than me."
But that encouraged Washington to really hone in on her other qualities, giving herself more substantial qualities to offer than just good looks. "So I learned to be smart and tried to be funny and develop the inside of me, because I felt like that's what I had."
And when it comes to her daughter Isabelle, Washington wants to make sure that her baby girl is always "heard."
"I just want [daughter Isabelle] to know that she's heard. Really heard, because I feel like that is what we all really want," she tells Dunham.
"When I think about any of the missteps in my life that I've made, all of which I'm grateful for, it's because I just so wanted to be truly seen and heard for who I am and was afraid I wasn't or wouldn't be. I see you, I hear you, I'm with you as you are."
Washington is known for being extra private about her personal life, and she explains that her caution with sharing too much comes from, well, once sharing too much with the public.
"Earlier in my career I was much more super-sharey. There were moments when I wanted to process things that were happening to me more privately, and I didn't have the space to do it, because once you let people in, they're in and you don't get to say, 'Oh, I want this for myself.'"
Read the full conversation between Kerry and Lena in the April issue of Marie Claire, on newsstands March 24, and don't forget to check out Lena's guest starring role on Scandal on March 19!