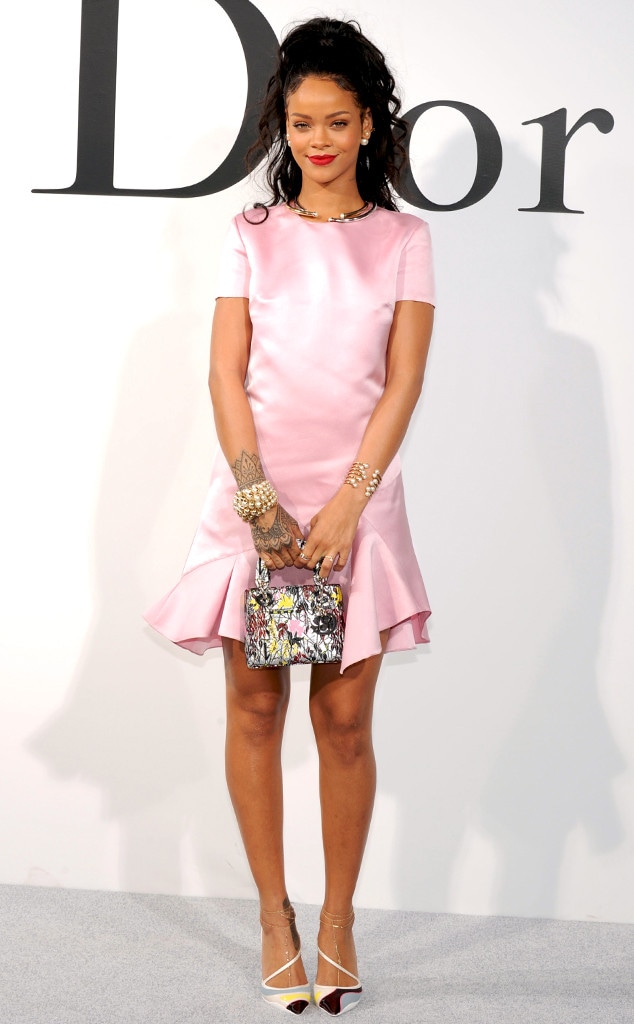 Bryan Bedder/Getty Images for Christian Dior
J'adore Rihanna!
That's right: The singer is going to be the latest ambassador for Dior, making her the first black woman to be a face of the iconic fashion house.
RiRi wil star in the next installment of Dior's Secret Garden campaign, which was shot in Versailles, France, by Steven Klein. "Film and print versions of the campaign are scheduled to run this spring," a brand spokesperson told Vogue U.K.
The star had been spotted at the Palace of Versailles' Hall of Mirrors in a gorgeous silver sequined frock filming what did indeed turn out to be her Dior debut! As first reported by the Daily Star UK, a New York-based producer on the shoot posted and tagged shots of Rihanna on Facebook, accidentally revealing the news before, well, the official reveal.
Other Dior ambassadors for various elements of the brand's wide-ranging collection of clothing, fragrances and beauty products have included Jennifer Lawrence, Marion Cotillard, Natalie Portman, supermodel Carmen Kass, Estonian model Tiiu Kuik and, in a cool vintage move, Marilyn Monroe and Grace Kelly, who the brand revived hologram-style for a commercial.
Charlize Theron, as we know, has also doused the J'adore fragrance line in a whole lotta sexy during her 11-year tenure with Dior, with her commercials becoming insta-classics.
This isn't Rihanna's only major collaboration in the works, either: The star has a full-range partnership with Puma, which will have her acting as the brand's Creative Director and chief consultant for the women's training line.
While there's likely still some time to wait for the first of the songstress' Dior ads, we know they will be something well worth waiting for.