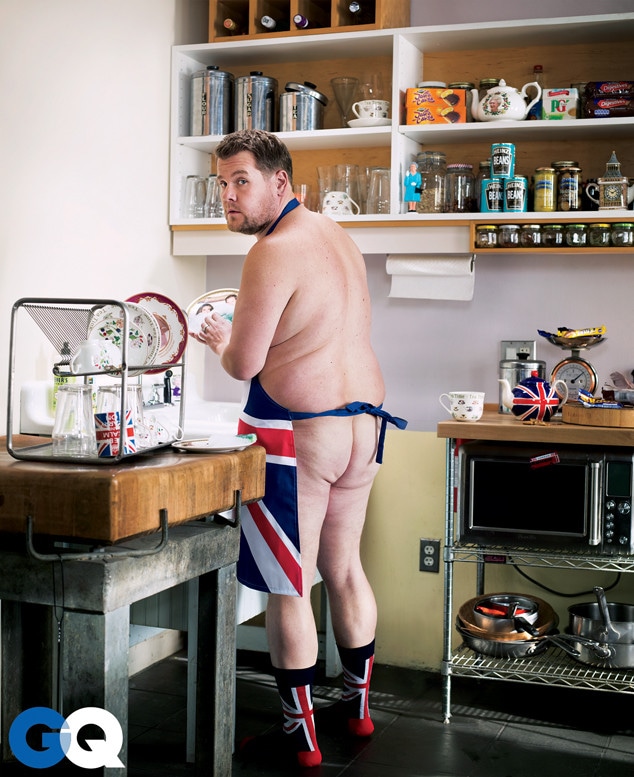 Chris Buck/GQ
James Corden is getting cheeky in the latest issue of GQ magazine! 
The 36-year-old comedian, who will formally replace Craig Ferguson as the host of The Late Late Show in less than two weeks, is currently preparing for his late-night takeover as well as his big move to Los Angeles. 
Paying homage to his home across the pond by wearing nothing but a British flag apron and matching socks—while flashing his bare bum for the camera!—the funnyman opens up about becoming an Angelino, vowing never to turn in to a typical Hollywood star. 
"What is the problem with these people?!" he says of celebs in Tinsel Town. "I mean, how hard is it to make a phone call? I don't understand it! Why would you put a gap in between you and something done quicker?!" 
Stephen Lovekin/Getty Images for The Weinstein Company
He adds: "What are you doing, calling your wife and getting your assistant before your wife? F--king madness!" 
Corden has two children with wife Julia Carey and his entire family will be making the move to L.A. "Babe! How are we going to protect our children against the vagaries of Los Angel-eeeeese?" Corden asks his wife during the interview at which point she quips, "I'm going to speak to them in a very posh accent," 
Hollyweird habits aside, Corden also shares a hilarious story about his first job in the magazine's accompanying video, revealing he was nearly fired for stealing 50 (!) bottles of beer. 
"I was 17 at the time, which was really when people started having house parties," he says. "So, what I would do to people who were having cool parties to get an invite, I'd go 'Yeah, I can get alcohol. Dude, totally. I steal it from work!' And I once tried to steal 50 bottles in a rucksack in two bags and was walking towards the door. I went 'Night everyone see you!' and my bags are just going clink, clink, clink." 
Unsurprisingly, Corden's boss discovered his bottles of booze, but miraculously, he wasn't fired. "But because they couldn't find anyone to work the shift the next morning, I kept my job. Didn't get fired. I mean I was a terrible employee," he confessed. 
The Late Late Show premieres on CBS on March 23 at 12:30 a.m.