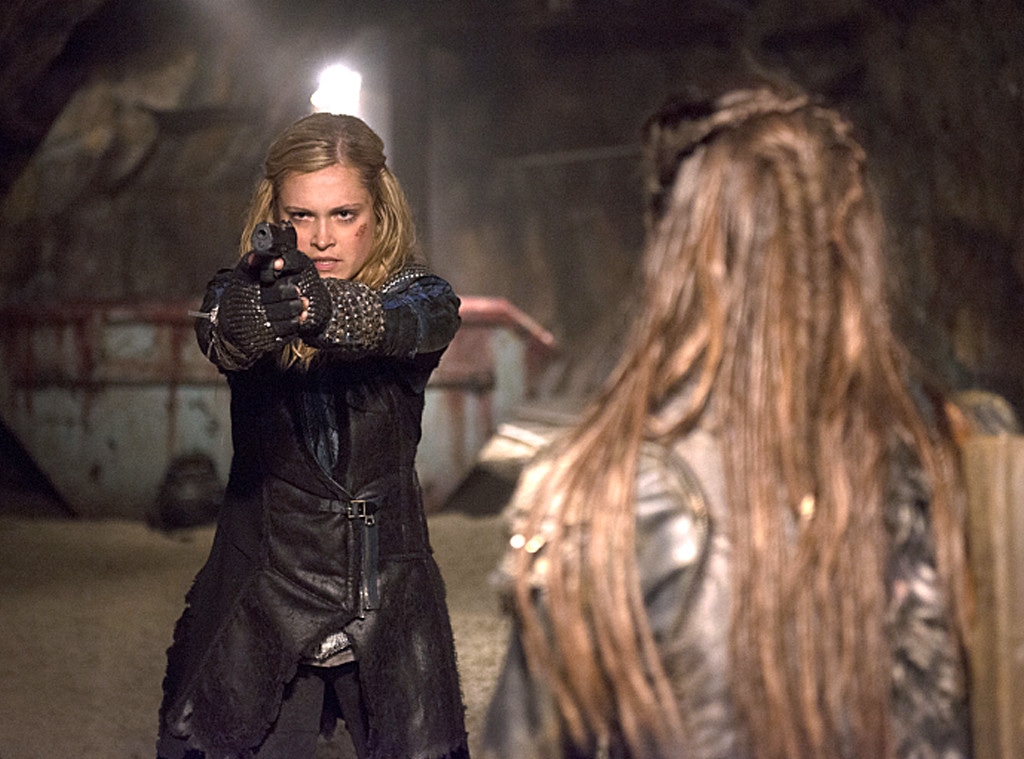 Cate Cameron/The CW
Holy mass murder, The 100!
Warning: major spoilers below! If you have yet to watch The 100's season two finale, "Blood Must Have Blood Part 2," avert your eyes now! You have been sufficiently warned. Everyone else, read on...
After a season-long struggle with how far she was willing to go to save her people, Clarke (Eliza Taylor) finally went all the way dark and did what she had to do in order to free the Sky People from Mount Weather and certain death at the hands of the Mountain Men...by irradiating the underground bunker, killing every single man, woman and child, the guily as well as the innocent. And that was after she shot Dante Wallace (Raymond J. Barry) at point-blank range in cold blood to show his son Cage (Johnny Whitworth) she meant business. Whoa.
Let the record show that you should never underestimate Clarke of the Sky People!
But as shocking as her choice was to commit mass murder, that was hardly the only major twist of the night. Jaha (Isaiah Washington) and Murphy (Richard Harmon) each discovered the City of Light was less of a paradise and more trouble than they thought! Jasper (Devon Bostick) blames Monty (Christopher Larkin), Clarke and Bellamy (Bob Morley) for Maya's (Eve Harlow) death! Indra (Adina Porter) set Lincoln (Ricky Whittle) free to kill Cage! Clarke left Camp Jaha and Bellamy behind to go...somewhere?
This is going to be one long summer break, huh?
Because we can't wait for season three to premiere this fall, we got The 100 executive producer (and bringer of tears) Jason Rothenberg on the line to break down everything we just saw. Check out our Q&A with him below!
E! News: Hey Jason!
Jason Rothenberg: So how many tears, Sydney?
All of them. Literally all of the tears.
[Laughs.]

I know you previously revealed Lexa (Alycia Debnam-Carey) was not in the finale, but why did you choose to not focus on the Grounder storyline in this episode?
There was a lot to resolve in this episode. When I was planning the episode, huge, huge choices had to be made that ultimately I couldn't accomplish because we only have 42 minutes. Having so many commercial breaks really limits the amount we can put into an episode and it all comes down to making choices. There were certainly stories I wanted to tell that we couldn't but hopefully we will eventually.
Clarke killed all of Mount Weather, and obviously this is going to affect her a lot going forward as she left Camp Jaha to strike out on her own, even though Bellamy took on some of the responsibility. Why is she still blaming herself when Bellamy helped shoulder that responsibility?
Bellamy's gesture at that moment was amazing and magnanimous. He doesn't want Clarke to take that on by herself. But at the end of the day, that doesn't really help absolve her of anything. Just because someone else did it with you, that doesn't make you feel any better about what you ultimately had to do.
But he's still pretty affected by that choice too, right?
I suppose there's a world where Bellamy can't live with himself and what he did either and goes out and joins Clarke. That's not in the cards for these two right now, though. Clarke has reached the end of her journey and just wants to forget what she's had to do and be by herself, not reminded every second of these horrible things she's been forced to do this season in order to get her people back, from killing Finn [Thomas McDonnell] to shooting Dante to irradiating Mount Weather.
The final moments from the finale once again blew my mind. Jaha and Murphy have both unlocked a huge piece of information about what caused the apocalypse 97 years ago. What can you tell me about what they're going to do with this information going forward?
We have introduced a whole other world, a whole other level to this show. Much the way the white room and Mount Weather at the end of season one spun us around the story we told this season, the finale and the discovery of the A.I. which was the cause of the end of the world—and I'm glad you put that together because that's not overtly spoken in those two scenes!—but that's certainly an area that we're going to mine for all it's worth next season.
Is there more revealed in that scene that we realize right now?
There are bread crumbs there, and you could certainly say, "Oh god, she's got another nuke and she says, 'We've got work to do,' that could be really bad!" Or it could mean something we're not  thinking of yet as an audience, much the way we thought the white room was really bad! But then at the beginning of the season, we were like, "Oh, maybe it's not so bad." And then of course it sucked even worse that we could have ever imagined! There's not much use in trying to guess what the story's going to be. Just ride it out with us.
Now that Jaha and Murphy each have separate pieces of the puzzle, are we going to see them at odds? Or are we going to see them reunite and work together?
Also a season three answer. Yes, they have very separate pieces of the puzzle. As of now, that was by design. We wanted to tell a whole story but have the characters not know the whole story. Certainly, we haven't even told close to the whole story yet but there's enough for the audience to piece together that the A.I. is the thing that ultimately ended the world even though Jaha and Murphy don't know that yet. You can assume as they go forward, they will figure things out and the questions are: Will Jaha come to look at Alie as the divine thing that he's been looking for? The City of Light proved to be an illusion, and instead he finds a Woman of Light, or made of light. Does he come to look at her as this divine being or not? We'll see. There's something really juicy to be explored in that.
Jasper suffered a huge loss, losing the girl he loved, and he's blaming his best friends which is understandable but still totally heartbreaking. How is this going to affect him going forward with his relationships with Monty, Bellamy and Clarke?
It's going to be hard on those relationships for sure. His heart is broken. He thought there was another way, that he was about to kill Cage and that could have saved the day. And now the woman he loves is dead. She died in his arms. Jasper says as she's dying, "She was innocent!" and Maya's last words are, "None of us are innocent." That's so true. The original sin of Mount Weather was what they were doing to other human beings to stay alive, and even the children of Mount Weather are only alive because of that. They didn't ask for it or consciously choose it, but all of their existence is based on this sin of their forefathers. On some level, they all had to go.
Is your head still reeling from The 100 season two finale? What was your favorite part of the episode? Hit the comments section below to weigh in and make sure to check back with us tomorrow for even more season three scoop from Jason!