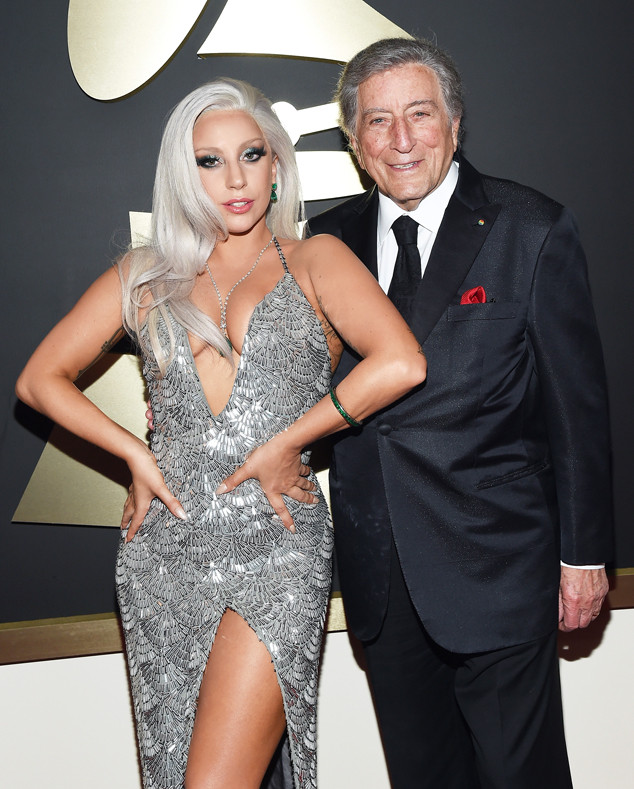 Larry Busacca/Getty Images for NARAS
The other main man in Lady Gaga's life will be involved in her big day, too!
Tony Bennett announced Monday that he will be singing at the pop star's wedding to Taylor Kinney. "They invited me to do it and, of course, I will," he told The New York Post's Page Six. He declined to divulge any details about the nuptials, saying, "All I know is, knowing Lady Gaga, it will be fabulous."
Kinney proposed on Valentine's Day with a heart-shaped diamond ring designed by Lorraine Schwartz. In an Instagram post, Gaga said her "favorite part" of the ring is having their initials, T and S, written in white diamonds on the band. "He always called me by my birth name. Since our very first date," wrote Gaga, whose birth name is Stefani Germanotta. "I'm such a happy bride-to-be! I can't stop smiling!!"
Gaga's friends and family can't wait to see the couple say, "I do."
Bennett, whose tour with Gaga starts Apr. 10, told Page Six, "She's marrying a very wonderful man, very talented and very handsome. I think he's going be highly successful in films. He's a very nice person."
Neither Gaga nor Kinney has revealed a wedding date.