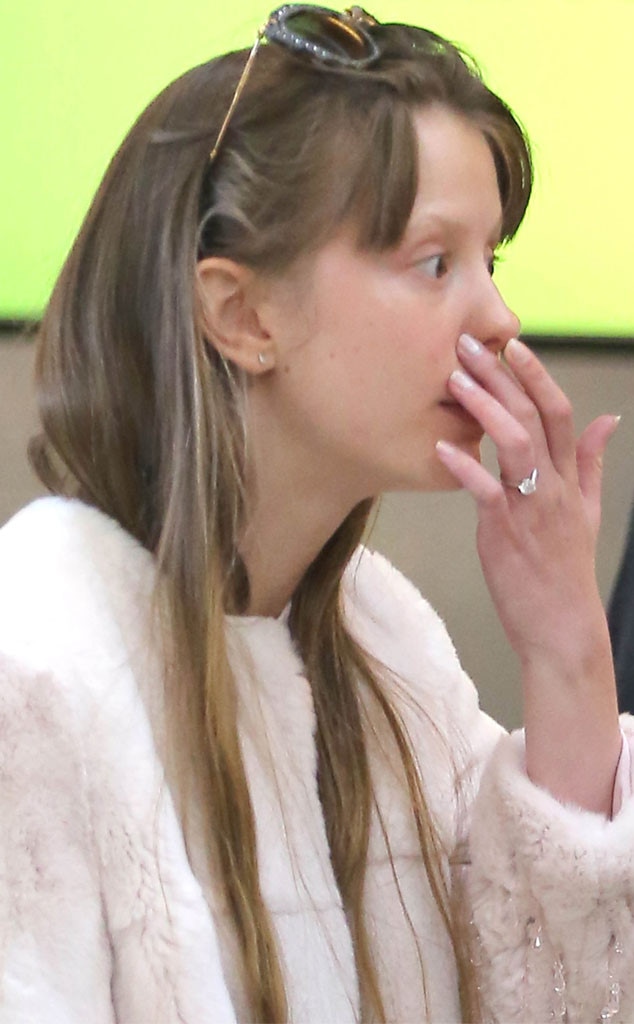 Splash
Nice ring you've got there, Mia Goth.
And it could just be plain old jewelry. But when a celeb in a long-term relationship stars rocking a pretty sizable diamond ring, we can't help but wonder...
Is Goth engaged to boyfriend Shia LaBeouf?!
Reps for both have not returned multiple requests for comment, but they've been together for a couple of years now so... A proposal is possible!
The actors met while shooting Lars von Triers' erotic two-part epic Nymphomaniac and were first linked as a couple in the fall of 2012.
Rocstar/Dmac/FAMEFLYNET PICTURES
While the pair haven't been shy about stepping out in public together and are spotted frequently, neither really talks about the other, preferring to keep their feelings private.
Before she was ID'd as Shia's girlfriend, Goth told i-D magazine that her idea of a perfect date was "something very simple."
"Maybe just stay in and cook and watch a great movie," she said. I'm obsessed with film."
Sounds like a good match for someone like LaBeouf, who seems to take his craft—cinema and otherwise—quite seriously. Or not.
Talking about his then-recent spate of oddball behavior, including his tear-filled performance art exhibit at a Los Angeles gallery and being arrested for disrupting a performance of Cabaret in NYC, the Fury star admitted last year that he was going through an "existential crisis."
"If you look at my behavior, it's been motivated by a certain discourse," he told Interview Magazine. "Metamodernism has influenced a lot of my action in the public in this last year and a half—the idea of diametrically opposed ideas happening all at once: the irony and the sincerity, birth and death, the immediacy and the obsolescence."
"I'm a dude who loves delusion," LaBeouf also said. "It's why I love being an actor—I never have to actually look at myself or be faced with my s--t or take responsibility. So it's been an eye-opening thing to have to look at myself, at my life, and have these reflective moments. So these last five movies, I do see the pattern that you're talking about, but I think it has much more to do with universal control than it has to do with my methodical approach to my career. I'd be lying if I said it's the f--king plan. It hasn't been that. I've been blessed with a s--t life." 
And if he's found the one to share that life with, more power to him!