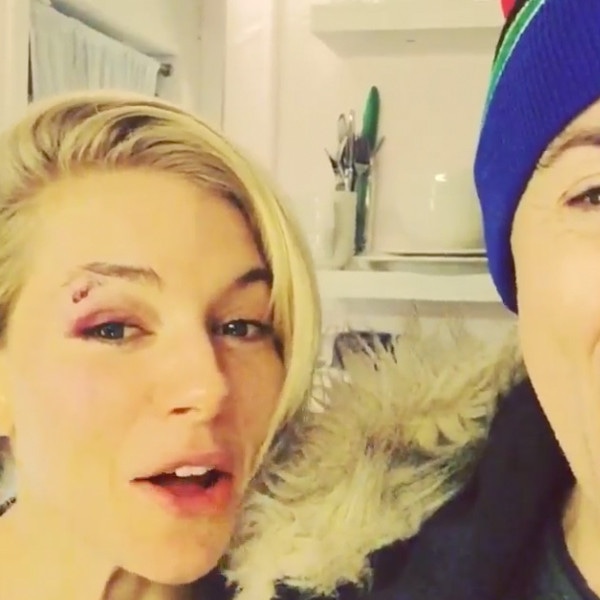 Instagram
The show must go on!
Sienna Miller had quite the performance Saturday night when she got into a minor accident while performing in the long-running Broadway show Cabaret. "At the end of the show there was a black out and Sienna accidently ran into a wall and made a wrong stepm," a source confirmed to E! News. "She hurt herself but she was trouper and came back in the next day and performed." 
In fact, less than 24 hours after the scary incident, Tom Sturridge's other half was back on her feet ready to deliver another show-stopping gig for a packed audience.
"Me and Rocky Balboa has a special announcement," co-star Alan Cumming revealed on Instagram. "Due to incredibly extremely circumstances, we're having a special edition of matinee on Broadway today with Mrs. Sienna Miller."
Showing off her black eye and stitches right below her eyebrow, Miller suddenly appears in the video ready for an impromptu sing-along.  
"It's Sunday matinee on Broadway," they sing in unison. "It's Sunday matinee on Broadway." If only we could all have that positive attitude when we have accidents.
Miller took on the leading role in Cabaret, held at the Studio 54 theater, on Feb. 17. Liza Minnelli, Michelle Williams and Emma Stone are just some of the A-list stars who have also appeared in the production.
Injuries or not, Miller is expected to continue until March 29.
—Additional reporting by Ruth O'Neill