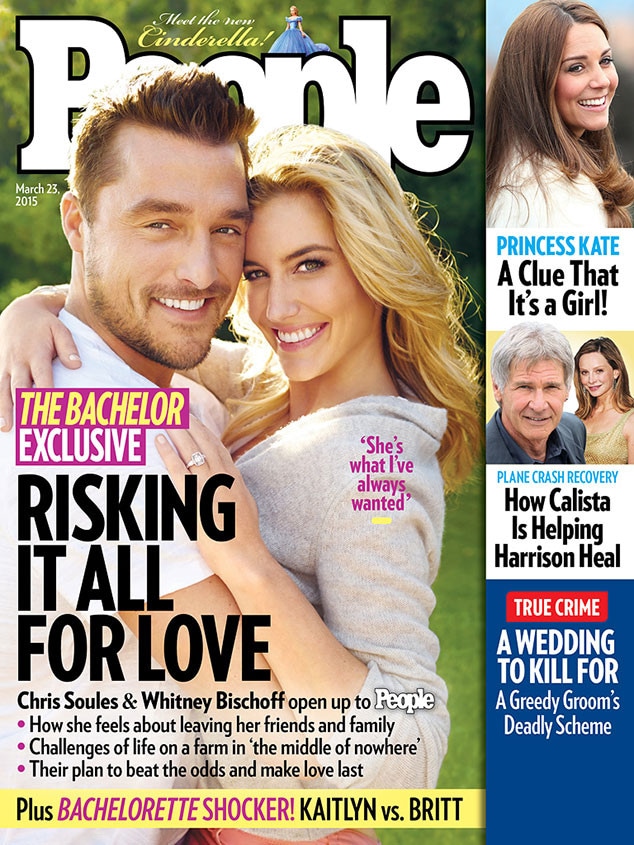 People
Chris Soules found The One in Whitney Bischoff!
On Monday's Bachelor finale, the 33-year farmer proposed to the 29-year-old fertility nurse, and Becca Tilley was sent home without a rose or a ring. Now, Chris and his fiancée are all smiles on the cover of this week's People, and while the groom-to-be calls Whitney "my soulmate," he admits he faced some challenges leading up to that final rose ceremony.
"It would have been easier had there not been so many great women," Chris tells the mag. "It was a very difficult decision to be in." 
He points out, however, that Becca, a 25-year-old chiropractic assistant, "is in a different place in her life compared to where I am."
"That doesn't make it a bad thing, and it didn't change how I felt about her, but it's about trying to find the person that you can see in your life and that you have the best chance of making it work forever with," he tells People. "My sister said, 'You're not looking for a girlfriend, you're looking for a wife.' That's the truth."
As for Whitney, his bride-to-be? "She was the person I could see myself with," he says. "It became even more clear at the end. It just felt right."
The future Mrs. Chris Soules admits she's "relieved that this is over," adding, "I'm looking forward to the life that we're going to start. I think a lot of great things are going to happen."
Next for the couple is a move to Chris' hometown of Arlington, Iowa. "I'm ready to be a dad," he tells People. "I'm 33. I think I'm past due!"
That said, Whitney doesn't seem to be in any big rush to walk down the aisle. She says they're taking wedding planning "step by step," adding, "I don't think you can put a time limit on something like that. When we feel it, it will happen."
"We had this great love story that now we get to build upon," says Chris, "and start a new love story in real life."