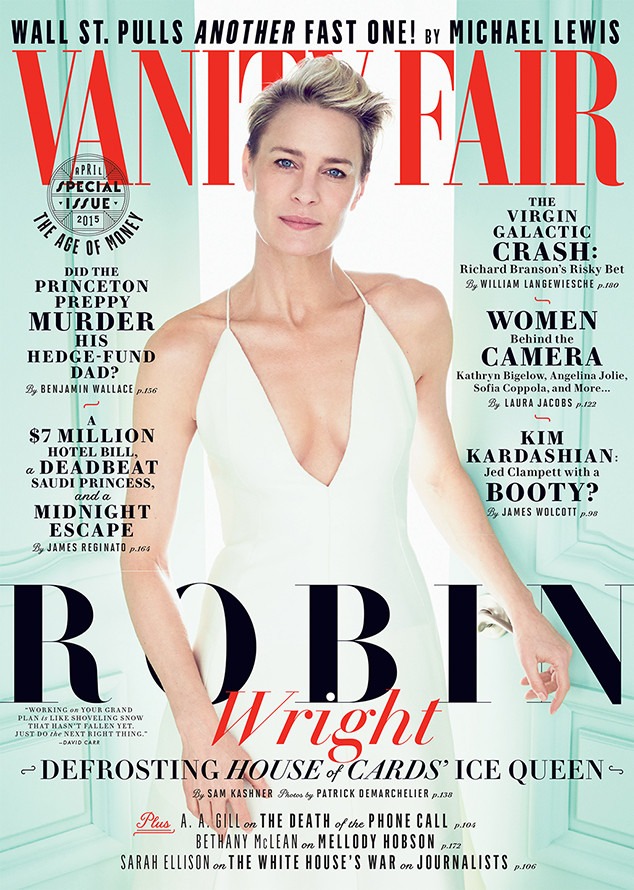 Patrick Demarchelier exclusively for Vanity Fair
Robin Wright is having a moment.
The Golden Globe-winning House of Cards actress graces Vanity Fair's April cover, and in the magazine's profile, she speaks candidly about her ex-husband Sean Penn and her on-again fiancé, actor Ben Foster.
Wright met Penn on the set of the 1990 movie State of Grace, and they got married in 1996. It was the second marriage for both, as Wright was briefly married to the late actor Dane Witherspoon in 1986 and Penn was briefly married to Madonna in 1985. "I was pregnant and ostensibly married at 24," she recalls. After getting married, Wright added Penn's surname and raised their children, Dylan Penn, now 23, and Hopper Jack Penn, now 21. "I [changed my name] really for my children because we'd had kids before we married, and I thought that we should all have the same name," she says. "That's traditional."
Talking about Penn is a sore subject for Wright.
At first, Wright is hesitant to discuss her 14-year marriage to Penn, telling Vanity Fair in an e-mail, "I'm not in the business of talking about what 'isn't.' My eyes are set forward and I've never been happier. I have too much respect for Sean and our two extraordinary children to sell our past joys and woes for public consumption and fodder." Upon further contemplation, she agrees to discuss Penn over the phone. "I grew up very fast as a young girl, but I grew slowly into my womanhood. We were learning as we were going along. We agreed as parents that we'd not work at the same time, so that one of us was always with the kids. He was making more money than I was at the time, so it was a simple decision: 'You go work—I'll stay with the kids,'" the Forrest Gump actress explains. "And we got along great as creative people. Acting together, him directing me [in The Crossing Guard in 1995]—that was great."
For a time, the A-list actors thought they might be the lucky ones in Hollywood.
Wright and Penn wanted to avoid the "bubble of celebrity," she recalls. "We got out of L.A. and raised our kids in Northern Cal." But in 2010, after multiple breakups and reconciliations, the two divorced. "I believe we were together not only to have our beautiful children but to learn how to love...for the next time around, the right way," Wright says. "And then, what I'm looking for in people now, is kindness."
She found that "kindness" in 34-year-old actor Ben Foster, whom she met on the set of Rampart in 2011. Wright and Foster got engaged in 2014, briefly broke up, then got back together. "I've never been happier in my life than I am today. Perhaps it's not ladylike [to say], but I've never laughed more, read more, or come more than with Ben. He inspires me to be the best of myself. There's so much to learn. It's endless. How great!" she says. "It took me a long time to grow up. Love is possible as life is possible."
Like her love life, Wright feels more confident than ever before. "I feel as though I've just graduated. I mean, I never went to college. I was pregnant at 23. You hear people say how they have 'arrived,' but it was just always there, waiting to come out. For me, it just took a long time. I'm 48. I'm finally a person," the Girl With the Dragon Tattoo star tells the magazine, on stands this week. "I think I'm finally ready."
Vanity Fair's April issue will be available in L.A. and New York, as well as on the iPhone, iPad, Kindle and other devices, March 12. It will hit national newsstands and be available in an audio edition March 17.