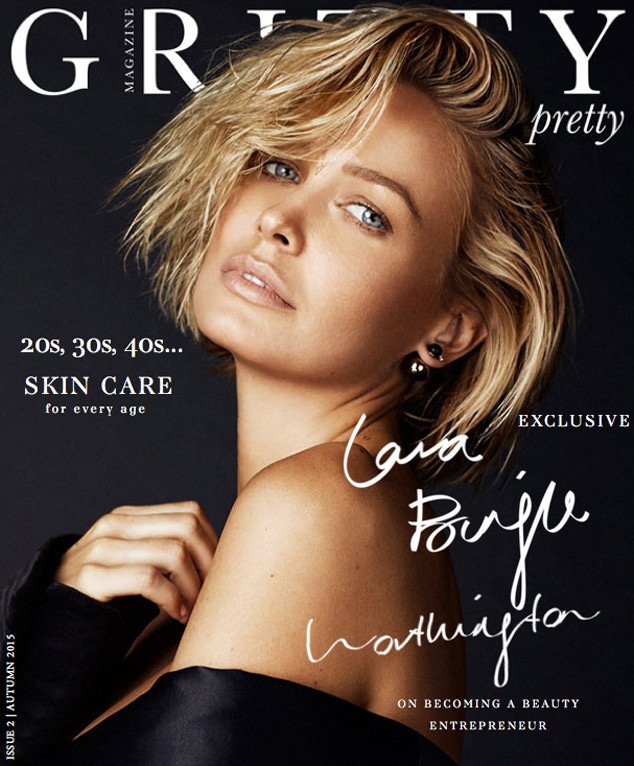 Courtesy Gritty Pretty Magazine
So sneaky, these two! 
Lara Bingle covers the latest issue of Gritty Pretty magazine, looking absolutely gorgeous as she channels her seductive side. However, it's not the pics that have created a stir, it's the models name which is inked on the cover and reads "Lara Bingle Worthington." 
Worthington, of course, being the surname of Bingle's beau Sam Worthington, whom she very may well have secretly married. 
The 27-year-old Aussie beauty and the Avatar actor are currently expecting their first child together, and while reps have stayed mum on the pregnancy news, the blond stunner's baby bump made its debut less than two months ago when OK! Australia published photos of Bingle's belly. 
Bingle and Worthington are known to be fiercely private couple (the Clash of the Titans star found himself at the center of a paparrazo assault case last year after he allegedly punched a photog), and in the magazine's accompanying interview, Bingle only refers to Worthington as her partner and never her husband. 
Despite the telling cover, Bingle chooses not to reveal whether the two are husband and wife, simply saying,  "there's no mystery anymore..." when asked if they've already said I-do (E! News also reached out for comment, but has yet to hear back). 
Courtesy Gritty Pretty Magazine
Rumors that the couple, who was first romantically linked in September 2013, have secretly wed have been swirling for some time after the two were spotting wearing matching rings in January 2013. 
Courtesy Gritty Pretty Magazine
While Bingle may choose to ignore the marriage reports, she is willing to clear up her stance on social media after deleting her Instagram account. 
 "I realized people were making money from it. Everything I'd post, they'd make a story out of it," she said, presumably referring to the wave of speculative reports that popped up after she changed her handle to @larabingleworthington (she removed her account shortly after).
Courtesy Gritty Pretty Magazine
But, when it comes to Sam, the model cannot stay completely tight-lipped gushing, "My family and friends and my partner are a massive influence." 
She added of the pair's globe-trotting lifestyle, "Settling [down] doesn't mean being in one place. For me, it's about being settled in yourself. I like traveling and I like the life [we] have. I don't want to be pigeon holed."