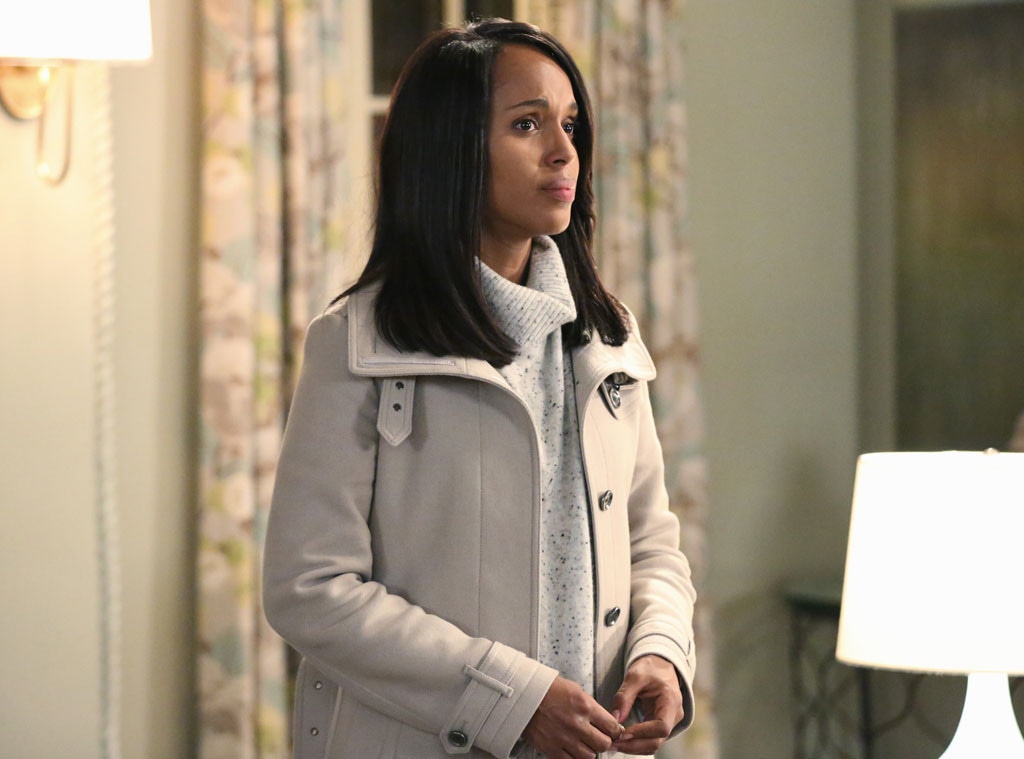 ABC/Adam Taylor
Kerry Washington might be the classiest woman on television.
Washington and the rest of the Scandal cast took to the stage with moderator Jimmy Kimmel tonight for their Paley Fest panel and gave us a lot of great little tidbits about Scandal behind the scenes.
The end of the panel was reserved for questions from the audience, which can occasionally be a real gamble, and there were a couple of awkward moments tonight from fans who decided to tackle a tough subject. One audience member decided to ask how the cast handled their "real-life scandal" involving Columbus Short and his legal troubles last year.
Washington shut him down, but she did it in the best way possible.
"The one thing that I would say, just so that it's clear: everyone who's in this family is in this family whether you're in this show or not. I don't celebrate the laughter at that question. I understand the question, and thank you for giving us so many viewers and thank you for understanding why we're not going to answer that."
Another fan later began her own question by stating that she's met Columbus Short before, and that he was "nice and humble," but it was still a difficult moment for anyone to deal with.
The panel also touched on the subject of race, particularly in the recent episode that dealt with a Ferguson-type situation, with Washington explaining, "It was really important to us that the show is about a woman who is black but also a lot of things." She touched on one specific moment in an episode where a client went to shake Abby's hand first, believing that she was Olivia Pope.
"We have a come to a point where the writers do feel comfortable to address more race," she began, "I was very moved that Shonda had a lot of feelings about what's been going on and her form of protest her form of expression is to write, and so for all of us to be able to tell this story was such an honor. It was a coming of age for Olivia but the overriding subtext of the story was so important. It was about lives mattering independent of who you're born as."
One audience member asked if Tony Goldwyn felt that Olivia was "sufficiently appreciative" of him going to war for her.
"No she was not,"  he said pretty quickly, "She didn't quite meet my expectations. I was hoping for a little more sugar."
Washington also addressed Olivia's kidnapping story, and drew parallels to an important movement. 
"Tony and I actually had a really great conversation about the fact that the president went to war, the idea that at a time that we were fighting for media to pay attention to hundreds of girls, #BringBackOurGirls," Washington said. "Shonda did the epitome of that story showing that the president went to war for one girl, and then put a black woman on an auction block because she's Shonda and it's complicated."
The panel wasn't all serious, of course. Jimmy Kimmel read a few tweets about what people would like to do to Tony Goldwyn, and we learned that Bellamy Young really did love and eat all of that (vegan!) fried chicken earlier this season.
Both Guillermo Diaz and Katie Lowes acknowledged that fans have asked to be licked before, and Goldwyn said that a fan did lick him on the neck once, when he leaned in to take a selfie.
The whole cast also talked about what it's like to be on a show run by Shonda Rhimes. None of them have ever dared to disagree with her, and only Tony Goldwyn has set foot in the writer's room, because he was directing an episode, and Rhimes felt uncomfortable the whole time he was in there.
The cast only learns plot points on a need-to-know basis, and mostly they just get asked strange questions. Washington said that she has gotten emails asking things if she has any negative experiences with specific people, or "Are you OK running barefoot?" Goldwyn has been asked what sports he plays, and when he said he plays anything but basketball, he ended up playing basketball on the show.
One fan also asked about the return of Stephen (Henry Ian Cusick). The cast revealed that his appearance was a closely guarded secret, and that the script didn't have his name in it. Washington said that they didn't even need to actually act in the scene, because "what we felt as actors was the same as what we felt as characters."
The whole panel, as well as all others from Paleyfest, can be watched on Yahoo Screen.