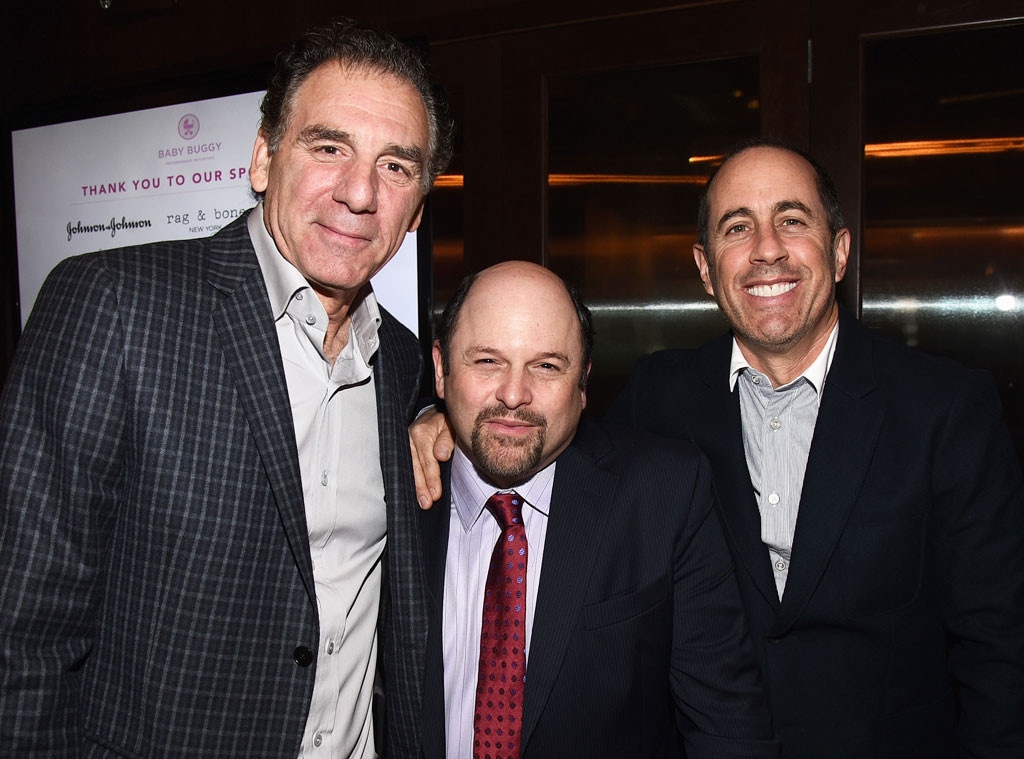 Michael Buckner/Getty Images for Baby Buggy
Anyone up for a tuna sandwich with coffee? Or better yet, a chicken sandwich with tea?!
Jerry Seinfeld, George—er, Jason Alexander and Michael Richards reunited today at the inaugural Los Angeles Fatherhood Initiative Lunch to benefiting Baby Buggy, held at The Palm steakhouse in Beverly Hills.
And just the sight of them all together made us beeline for the DVR to record the Seinfeld reruns that thankfully are always on.
Seriously, seeing Julia Louis-Dreyfus with them probably would have sent us into overdrive. (While Richards has been a guest on Seinfeld's web series, Comedians in Cars Getting Coffee, we must ask: Can't they take a car out that seats four?)
"It's a Seinfeld reunion at #BabyBuggyFatherhoodFantastic event and charity. @LoveRecycled@esquirenetwork #CarMatchmaker," Seinfeld writer Spike Feresten shared a candid pic of the trio, Jerry mid-laugh at whatever was being said by the other two.
"I was honored to share this day with amazing fathers whom I also call friends," Seinfeld said after the luncheon, which according to event organizers raised $250,000. "The work that Baby Buggy does is instrumental in a father's life, and in the lives of their children, and I am grateful that so many people came out to support it."
Baby Buggy, a nonprofit that supplies families in need with child care essentials, was founded in 2001 by Jessica Seinfeld—so this wasn't just a TV-family affair.
"#Repost @jessseinfeld Thank you @rag_bone@esquiremag #unitedtalentagency#johnsonandjohnson for supporting the launch of#babybuggyfatherhood Los Angeles. I [heart] our amazing@loverecycled team," Jessica posted on Instagram. "What a privilege it is to work with such dedicated, talented souls. You are proof that when one surrounds themselves with greatness, success is imminent."
Gwyneth Paltrow, Judd Apatow, Jason Bateman, Seth Green, Kevin Hart, Jay Leno, Bill Maher, Bob Saget, Dax Shepard, Michelle Trachtenberg and James Van Der Beek were also in attendance at the star-studded event.