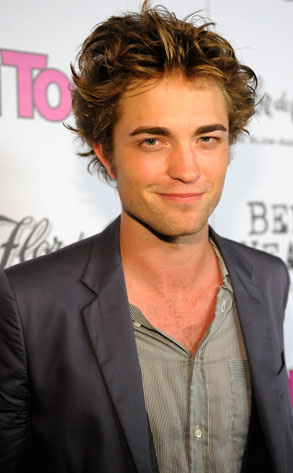 Charley Gallay / Getty Images
After watching the new Twilight trailer, we're feeling pretty giddy and want more of that 22-year-old foxy vampire/reluctant musician Robert Pattinson. So we were disheartened to realize we had to go back to MTV's VMAs just to find a picture.
With his movie coming out in just over a month, he should be out brunching at Toast (the Ivy would be too desperate) and maybe popping up on a random red carpet every now and then. While he did perform a couple of songs at Whisky A Go-Go last week, all we got was a fuzzy YouTube video in which we couldn't even see his hair, which is just unacceptable.
We're not asking Robert to go courting paparazzi attention, but just show up someplace where the cameramen might snap his picture.
And while we're on the subject of RobPat's supreme foxiness, let's talk about that Twilight poster...
How did they manage to make him look so awful? Yeah, he's a vampire, but he's the hottest one—every girl would be flattered to have him stalk them. Except no one would want to be stalked by this guy, right?