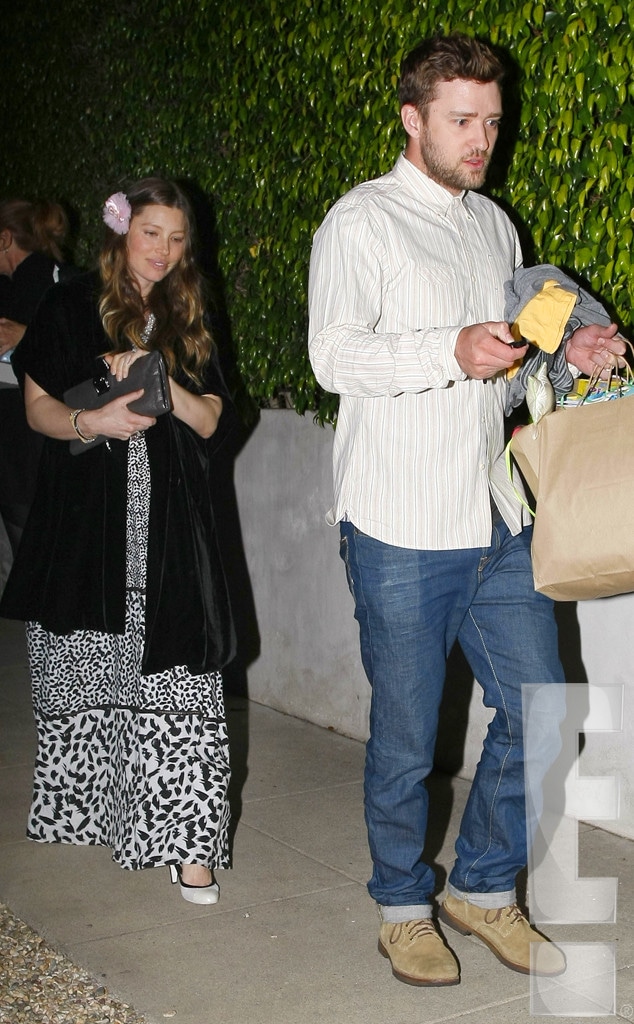 Terma/O. Duran/FAMEFLYNET PICTURES
It looks like Jessica Biel had a positively fabulous 33rd birthday!
After wrapping filming on her movie The Devil and the Deep Blue Sea in New Orleans this week and flying home to L.A. the other day, the pregnant star celebrated her B-day last night surrounded by hubby Justin Timberlake and a group of good friends.
Biel's BFF Estee Stanley threw the bash at her house last night in honor of Biel's b-day. The small dinner party was very intimate with fewer than 10 people in attendance, a source tells E! News. The party was very mellow, the insider reveals.
Terma/O. Duran/FAMEFLYNET PICTURES
Following the party, Biel and Timberlake were spotted leaving around 11:30 with giant smiles on their faces. The 34-year-old "Suit & Tie" singer was the ultimate gentleman while carrying all of Biel's birthday gifts in bags. He looked super handsome in blue jeans and a button-down shirt.
As for Biel, the brunette beauty covered up her big baby bump in a floor-length black and white dress and a black coat with a clutch. The actress looked radiant and glowing as she headed home with her hubby.
Terma/O. Duran/FAMEFLYNET PICTURES
A source tells E! News that Biel is only a few weeks from giving birth and is doing a lot of relaxing now ahead of welcoming her first child.
"They are both so excited for this new chapter and ready to be parents," and insider reveals. "They are such a great team and will both be very hands on and involved with everything."
Too cute!
Terma/O. Duran/FAMEFLYNET PICTURES
Yesterday, Timberlake took to social media to wish his wife a happy birthday with a sweet pic and the message, ""Happy Bday to the sweetest, most GORGEOUS, goofiest, most BAD-ASS chick I know. You make me smile 'til it hurts. I love you like crazy! --Your Huz."
—Reporting by Melanie Bromley and Michelle Falls
Terma/O. Duran/FAMEFLYNET PICTURES