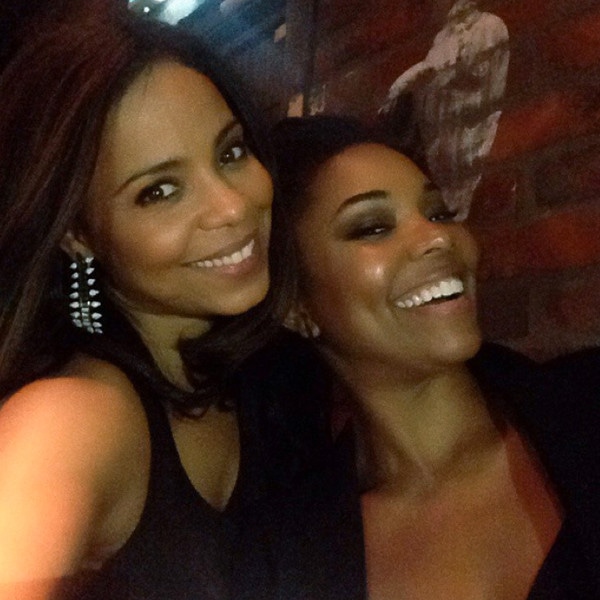 Instagram
Shawnee and Monica are still friends, you guys!
Gabrielle Union and Sanaa Lathan reunited in London 15 years after Love & Basketball graced the big screen, and they seriously haven't aged a day. If anything they've both gotten even more gorgeous! Dwyane Wade's wife documented their reunion with some fun selfies on Instagram. (Even when they make goofy faces they look phenomenal).
"Reunited and it feels so goooood... In London with Bae @sanaalathan," Union captioned the first pic.
She posted another selfie of them showing off their flawless smiles, writing, "#ChocolateLovers."
Lathan also posted the pics on her own Instagram page, writing, "#LondonTown! #loveher." Could they be any cuter?! Seriously, these are our #friendshipgoals.
The BFFs, 43, both starred in the 2000 hit Love and Basketball, in which they played Shawnee (Union) and Monica Wright (Lathan). The drama followed Monica and neighbor Quincy (Omar Epps) from childhood to their college basketball years as their relationship slowly transitioned from friends to lovers.
But seriously, how does Union continue to defy the laws of aging? While stopping by E! News to promote Being Mary Jane, she revealed what her beauty secrets are, and they're surprisingly accessible! That's right, no over-the-top expensive products and procedures for her!
"I don't abuse my body. I drink a gallon of water a day. I use Neutrogena," she shared with E! News. "A lot of it is really mind over matter and eliminating a lot of the BS and learning to say no."
Just. Say. No. It really is that easy!
"I swear to God," Union continued. "The second I learned how to say no, I felt that was the best anti-aging I could do for myself."
Looks like we'll be heading to the pharmacy to stock up on Neutrogena LOL!